DIE ANOTHER DAY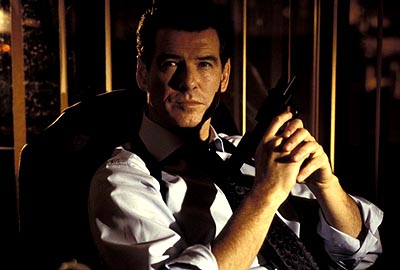 Reviewed by Sam Hatch

007 agent James Bond returns in his twentieth official outing and the fourth film in the series in which Pierce Brosnan portrays the British super spy. Brosnan has been getting better and better as Bond as the films commence, and he seems remarkably comfortable in the role now. DAD begins with an excellent nighttime surf scene as Bond and two other agents (think red suits in Star Trek) land on the heavily guarded coasts of North Korea in the guise of arms dealers looking to buy some goods in exchange for an (explosive) attache case full of diamonds. We're introduced to Will Yun Lee's Colonel Moon (a nod to the post-Fleming novel Colonel Sun?), the psychotic hardliner son of Kenneth Tsang's Korean warlord General Moon, and also his taciturn accomplice Zao (Rick Yune). After a rousing chase involving numerous hovercraft, Bond is taken prisoner and must endure multiple forms of torture, including scorpion stings, ice cold water submersion and the god awful, robotic echo chamber of a song that consists of Madonna's main theme.

The screenwriters use this as a clever ploy to show us how the world changes without Bond following the events of 9/11, without ever directly referencing it. Upon release to his home country, Bond finds himself unwanted by his own side, and must work on his own to track down the villains, in the process encountering a sexy CIA agent named Jinx Jordan played by Halle Berry. When the film is firing on all cylinders, it's a very, very good outing. The scenes in Hong Kong and Havana manage to feel modern yet still capture a bit of the classic Bond feel. Emilio Echevarria's cigar selling sleeper agent instantly reminds us of Pedro Armendariz in From Russia With Love, and Q's scene is laden with numerous sight references to the Bond flicks of yore.

It's in the final act that things start to devolve into the type of overblown silliness most associated with films such as Moonraker and The Man With The Golden Gun. Bond's encounter with Toby Stephens' diamond magnate/playboy Gustav Graves is exhilarating when they erupt into a violent fencing match that is one of the best fights in the series. Sadly, from there it travels to Gustav's ice hotel in Iceland (which in and of itself is an interesting gimmick), and the happenings around it get cheesier as the minutes progress. An ice-borne car chase involving the newest incarnation of his trademark Aston Martin (an invisible Vanquish dubbed the 'Vanish' by Q) ensues, only to be followed by a preposterous action sequence in which Bond surfs away from a gigantic glacier shear with the help of some of the worst special effects known to man.

Thankfully, the worst is over at that point, but the subsequent set pieces never feel as urgent as they should. Rosamund Pike is lovely as Miranda Frost, and is involved in a great sword wielding catfight. Judi Dench, John Cleese and Samantha Bond all return as Bond's beloved MI-6 cohorts. It's just a shame director Lee Tamahori and writers Neal Purvis and Robert Wade couldn't sustain the thrills of the opening scenes and the classic feel of the second act. Still, much better than Goldeneye by a long shot.