FEAST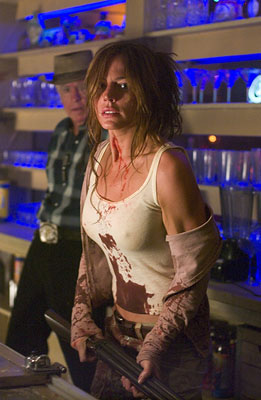 Reviewed by Sam Hatch
Having seen nary an episode of HBO's Project Greenlight series, my only knowledge of this cheapie horror exploitation flick was from friends talking about how much of a mess it was to make. Project Greenlight is a reality show in which the Oscar-winning writing team of Ben Affleck and Matt Damon help budding filmmakers see their projects come to fruition with the aid of ex-Miramax honchos Bob and Harvey Weinstein. The first few seasons yielded the panned release The Battle of Shaker Heights and... that other one. So it probably came as no surprise that the script chosen for the newest season was an unchallenging B-monster mash.
John Gulager was the troubled director at the helm, and was reportedly almost removed from the project on at least one occasion. John is the son of character/cult actor Clu Gulager (Motel Hell), who everyone knows as that guy they've mistakenly called Clu Gallagher for their entire lives. Sure enough, papa earns a major role as a bartender in the film, joining a cast peppered with cult fan icons such as Henry Rollins and Jason Mewes. Rollins' Lost Highway co-star Balthazar Getty stars as a surly backwoods lowlife, but apart from these actors the cast is mainly comprised of newcomers.
The story immediately inspires the shrugging of shoulders and thoughts of 'Okay, nothing new but maybe it could be cool.' Centering on a group of Southern barflies trapped in their favorite watering hole whilst evil beasties threaten their lives from outside, Feast certainly doesn't sound original on first pitch. Sure, it's a spin on the classic Night of the Living Dead template, but the first thing that really comes to mind is - 'I saw that before in a movie called From Dusk Till Dawn!'. I was also reminded of the seminal bar massacre scene in Katherine Bigelow's Near Dark, but ultimately the end result most resembled that little-seen Billy Zane/Jada Pinkett vehicle Tales From the Crypt: Demon Knight. But the Dusk similarities are there, mainly in the way that Gulager wears his Tarantino aspirations on his directorial sleeve.
The major Tarantino element is found in the way the various characters are introduced. Each new victim's mug is freeze-framed, the color footage turns a brownish monochrome hue, and various postmodern statistics are scrawled at the bottom of the frame. Proper names are generally eschewed for cult-ready titles such as Heroine 2 or Beer Guy. Also given are fun 'facts' about each person and more postmodern yuks such as 'life expectany'. Once Mewes' character is introduced while playing a game of pool, his titles humorously announce that he's playing himself and that his life expectancy has already been miraculously overreached, in a tongue in cheek reference to his real-life heroin addiction.
Rollins plays a Tony Robbins-esque self-help guru, and supplies plenty of laughter as he repeatedly comes up with stunningly bad ideas. There's also a helpless old lady, a waitress, a single mom/prostitute, her trick (a burly cowboy), and the token virgin boy in a wheelchair. VH1 Best Week Ever alum Judah Friedlander pretty much plays himself as well (appearing with trademark oversized baseball cap), who eventually becomes the equivalent of Bill Paxton's Hudson in Aliens, the obnoxious loudmouth constantly whining about how much his plight sucks. After experiencing a faceful of monster viscera, he begins showing signs of slow decay. This creates numerous moments of squeamish glee as he keeps asking if his damaged eye looks any better, while it is in fact rotting and covered with maggots. Speaking of which, this side of Dario Argento, horror directors generally don't seem keen on the use of maggots. But Gulager definitely delights in them, much to the audience's dismay.
Shortly after the bulk of character introductions and setup, a bloodied husband and wife arrive to alert everyone to the danger at hand and try to persuade the reluctant crowd to collaborate in an effort to defend themselves. Navi Rawat as the wife is the weak link in the cast, and many of her lines come off stilted and corny. I have since been informed that the TV series revealed that she was cast ahead of qualified actresses due to her friendship with the casting director, which makes sense. Luckily, dialogue isn't the point of the film, and the action continues at a breakneck pace. Henry Rollins isn't a master thespian himself, but he knows how to pick roles that play to his strengths, and all of his lines are hilarious. A moment in which he screams 'Bullshit' while two monsters use his body as a battering ram is worth the price of admission alone.
For fans of deep plotting and creature mythologies, be aware that the monsters in Feast are never explained, nor do any of the characters within attempt to ferret out the answers behind their mysterious existence. They simply want to survive, and the monsters simply want to eat their flesh. This actually comes off rather refreshing. Sometimes not knowing the history and genealogy of a creature enables it to frighten more effectively. Though the first monster to arrive at the Feast bar is a funny looking (though remarkably vicious) juvenile, which is just as keen on humping a stuffed deer head as it is on ripping faces off of the bar's clientele. The one glimpse into the life cycle of the beasties is yet another instance of how the script repeatedly thumbs its nose at genre conventions - after the gang finally manage to kill the young diminutive creature (which usurps most of their ammunition in the process), the grieving parent monsters go at it doggystyle on the hood of a parked car, after which a newborn creature instantly pops out, unfurls and runs off into the night. It's like Aliens on speed.
And that's the smartest aspect of the script by Marcus Dunstan and Patrick Melton. It constantly defies horror tradition and tries new, albeit fiendishly simple, techniques. The best is a moment in which the bar's denizens decide to cook up a distraction so that some of them can make it outside to a parked semi, back it up and free the rest of the folks holed up inside. When a character finally succeeds at reaching the rig and simply saves their own neck by driving off into the distance, it works brilliantly. Every other horror movie would have the character seem to abandon the others only to reappear at an unexpected time to save the day. Not here. And bless its twisted little heart for that.
The creature effects are creative and effectively executed, except for one segment in which two older creatures shamble across the frame in a rather silly fashion. I expect the oddness of that moment was due more to the frame rate in which it was filmed than the 'actor-in-a-suit' factor. The weakest element of Gulager's direction is the camerawork - it moves too fast and is focused so tightly that much of the action is impossible to follow. Gunshots and maulings blur into nonsense and one must attune to the sound mix to make heads or tails out of what's going on. I understand the reasoning behind it, as it often helps to keep the camera from lingering on creature makeup for too long, but the filmmakers went too far in the opposite direction. I'm sure that some of the action made sense on a small computer-editing monitor, but once it's transfered to scope and blown up to large proportions, the 'Blair Witch Nausea' element ensues. The recent British import The Descent had a similar dilemna (and portions of Feast's finale do feel like moments from that film), but it pulled the shaky camera technique off much better.
So for all the talk of it being a total disaster, and despite the fact that it took forever to hit theaters, Feast is actually a fun, quirky piece of horror trash. Unfortunately, it was made at a time when Miramax/Dimension was being torn asunder, but hopefully with the Weinstein Film Company now in effect things can be ironed out for future Greenlight projects. Sadly, the brothers Weinstein's final decision regarding Feast was that it's a cult oddity best suited for DVD. Instead of a straight to video release, they've opted to allow it a limited three-week theatrical run in select cities for midnight shows only. Maybe that's a wise decision based on the limited box office receipts of the superior but similarly cheeky film Slither earlier this year, but it still feels a shame that they wouldn't allow it to try to find a larger audience. The people need more maggots! Go see 'em wriggling on the big screen while you still can!