No. 1: SAY ANYTHING...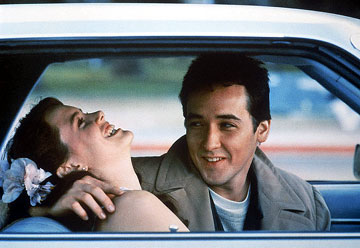 Reviewed by Sam Hatch
AS THIS IS PART OF A RETRO NOSTALGIA BINGE AS OPPOSED TO A TRADITIONAL REVIEW, THERE MAY BE SPOILERS PRESENT IN THE TEXT.
Cameron Crowe's 1989 relationship epic was an obvious choice for number one at the time, since my dad often liked to point out that John Cusack's character Lloyd Dobler and myself were in fact the same person. Minus the kickboxing perhaps. For the uninitiated, this was the film in which John Cusack and Ione Skye discover each other after graduating high school, and are forced to navigate that extremely volatile period in which they have to decide what the hell to do with their lives. Lloyd is a blissfully content slacker. He might want to pursue a career in kickboxing, or not, but he knows he doesn't want to process, buy or sell anything.
His support group consists of a group of similar minded slacker/burnouts, led by Lili Taylor's mega-sad Corey Flood, a damaged guitar playing poetess obsessed with expressing the pain she felt after being dumped by her high school boyfriend Joe (Loren Dean, who would later costar in one of my current all-time faves, Gattaca) in as many tortured variations as possible. The lyrics "He likes girls… with names… like Ashley" are funny not simply because you're laughing at her character, but because you recognize some of that self-absorbed angst within yourself and can relate to the absurdity of it all. Lloyd is also advised by his older sister Constance (played by real life sis Joan) whom he lives with, and a group of young wisemen found eternally loitering on the curb of a local gas station (the Gas 'n Sip), rife with such sage advice as 'Gotta go to a kegger' and 'Bitches, man!' These scenes also include the famous rap sequence which unveils the classic rhyme 'Lloyd, lloyd, all null and void. Dissed in the Malibu, don't know what to do.'
Lloyd's muse Diane Court is on the opposite side of the moon, one of those obnoxiously over ambitious types that either burn out directly after high school or succeed as planned only to continually irk the rest of the world. Her life has been planned to the letter by her overbearing father (played by Frasier regular John Mahoney), whose wealth may or may not have been amassed on the right side of law. Her father resents Lloyd, not because he's a bad person per se, but that he poses a threat to Diane's predestined life path. A path that he has bought at a potentially astronomical end cost.
Say Anything was one of the first films where Cusack was able to stretch his legs as an actor. His previous films featured younger, high school aged lovelorn losers wallowing in self-pity and comedic highjinks, which isn't a bad thing in and of itself. Lloyd is similar to those guys, but infinitely more real. The film as a whole is so much more mature than any high school era 'comedy' has a right to be. The film eventually abandons most of its humor as it evolves into a poignant portrayal of a young relationship and the troubles created by listening to your heart and flying in the face of reason. The line "I gave her my heart and she gave me a pen" is a classic. And if I said I never memorized the dialogue including "do you need someone or do you need me…" just in case an ex-girlfriend happened to come crawlng back, then I'd be a liar. I never did enact the boombox over the head bit, though.
On the musical tip, special mention must go to the soundtrack album, which in typical Cameron Crowe style contains a pile of hip, eclectic tunes. There's Peter Gabriel's 'In Your Eyes' of course. Red Hot Chili Peppers 'Taste The Pain' is a standout, and contains the funky breakdown in the middle section that never made it onto the album Mother's Milk. There's a bit of the Replacements, a dab of Depeche Mode, and of course the most ass-kickingest ska song ever, Fishbone's 'Skanking to the Beat'. This tape was a constant fixture in my cheesy JC Penney stereo in my beat up 1971 Plymouth Satellite (my version of Lloyd's Malibu). The only thing I was missing was the book of matches to make it play right.
Still to this day, watching Say Anything... is akin to popping in an old home movie and revisiting the world of my younger self. And I still don't like working with anything bought or sold. And if you ask me to borrow the DVD I will gladly tell you "No, my brother. You've got to buy your own!"