THE DESCENT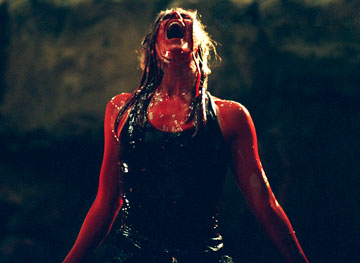 Reviewed by Sam Hatch

AS THIS IS PART OF A YEAR-END DISCUSSION AS OPPOSED TO A TRADITIONAL REVIEW, THERE MAY BE SPOILERS PRESENT IN THE TEXT.

About four years ago, British filmmaker Neil Marshall's low budget military werewolf film Dog Soldiers found a cult audience Stateside, and has been running steadily on the SciFi channel ever since. He returns with another low budget horror piece, centering on a group of female post-collegiate friends who reconvene every so often to indulge in bouts of extreme sports thrillseeking. One of the women (Shauna MacDonald's fragile Sarah) has suffered a tremendous personal loss, and is all but forced to join a spelunking expedition by her overly ambitious American friend Juno (Natalie Mendoza). There are a few initial character-building scenes in a cabin, but once the group delves into the underground labyrinths of the Appalachians, the script turns up the heat quickly.

It starts as a Blair Witch-style piece on one character's preparatory negligence and her outrageously callow willingness to endanger her so-called friends' lives. Sarah's sanity is called into question, as she periodically encounters hallucinations involving her deceased daughter. All of this is enough fodder for a well-made thriller, but once the women burrow deeper under the hills, they run afoul of something very disturbing and deadly. From that point on, the film runs at a breakneck pace, and manages to breathe new life into the tired Ten Little Indians/Friday the 13th template where character after character is knocked off with little to no emotional impact. Marshall's screenplay also smartly remembers that just because a new danger has been encountered, the initial danger of cave exploration itself has not been negated in any way.

The women face obstacles and terror around every turn, and when some character-based twists are subtly revealed in the second act, the intensity really takes flight. I love horror films that work on multiple levels, and this is not merely a creature feature a la 2005's much less successful The Cave. The Descent is also very much about the descent into madness, and focuses on numerous feminist motifs and includes a shockingly literal rebirth/baptism in blood. It manages to meld the main character's grief over the loss of a child into the crux of the events surrounding some very disgusting Gollum-esque creatures. The ending is perfect, and I'm looking forward to seeing the grim, original British ending on the DVD. (P.S. - Just saw it, and it is an awesome nod to Terry Gilliam's Brazil. Definitely the superior finale.) I love good horror, but I love good, smart horror even more. Sure to be a genre classic.