FAVELA RISING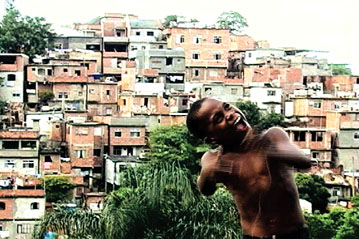 Reviewed by Sam Hatch

AS THIS IS PART OF A YEAR-END DISCUSSION AS OPPOSED TO A TRADITIONAL REVIEW, THERE MAY BE SPOILERS PRESENT IN THE TEXT.

A magnificent, inspirational tale of the Afro-reggae musical movement in the poorest and most dangerous of Brazil's ghettos (or favelas). The documentary by Matt Mochary and Jeff Zimbalist showcases a stark contrast between Rio De Janeiro's famous beaches and the nearby hillsides covered in squalor-filled shanty towns. Favela Rising diagrams how important creative culture is, and how something as seemingly mundane as music and dance can elicit enormous social change.

Set amongst numerous little city-states where each neighborhood is ruled by its own unique drug gang, the film introduces participants in the Afro-reggae movement, as well as the locals of the favela Vigário Geral who discuss (at their own peril) how the gangs rule their world, and are often viewed as the only option for living (and dying.) Brazil's police force is well known for its corruption (take a listen to the song Policia by Brazilian heavy metal band Sepultura, for example), and their retaliatory methods make the public view them in an even darker light than the criminals they 'fight'. After one violent attack in which the drug enforcers claimed the lives of numerous cops, the police responded by rolling into the favelas one morning and murdering twenty random citizens.

Anderson Sa, the charismatic main figure of this documentary, was so enraged by acts such as these that he (and a group of local friends) decided to create a third option. Dance and music as a form of aggressive expression is what resulted, and over the years the Afro-reggae movement was honed to become an alternative to the bloodshed. What's amazing is that it was possible at all, for although some songs bemoan the brutality of the police, the group doesn't support the drug cartels either.

One great scene describes how a drug lord thanks Anderson for creating this outlet, for now the kingpin's young relative can choose a life that doesn't involve toting automatic weapons around. Another tense moment unfurls when a rival gang rides into town to possibly murder Anderson for offenses he did not commit. The film pulls a few tricks in how it reveals exactly what happened to the man, but for all of its manipulations, Favela Rising is a stunning success. It illustrates that no matter how hopeless a situation may seem, people can create new options for themselves with sometimes just a modest idea and a ton of courage and conviction.