F*CK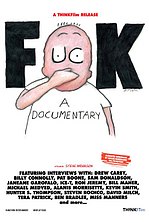 Reviewed by Sam Hatch

AS THIS IS PART OF A YEAR-END DISCUSSION AS OPPOSED TO A TRADITIONAL REVIEW, THERE MAY BE SPOILERS PRESENT IN THE TEXT.

The word we all know and love finally gets its due - an etymological, cultural journey into the many meanings and uses of the F-bomb. If you think it'd be hard to stretch that concept out for an hour and a half, you'd be wrong. By the time the eighty minute mark had come around, I was already hoping that the film would somehow continue unveiling new fucktastic segments.

As with all things offensive, the profane element itself is only part of the story. The history of the word's usage is explored, and many myths surrounding its nature as an acronym are exploded (with the aid of some very cool Bill Plympton animations), but to tell that tale you also need to detail its impact on culture. Unlike some words that only have meaning in certain areas of the globe, our cute little expletive is a true worldwide phenomenon. And as Scottish comedian Billy Connolly explains, it doesn't matter if you're in Shanghai or Miami - if you tell someone at the airport luggage area to "Fuck Off!" when they touch your bags, they'll understand what you're getting at.

Everything from Lenny Bruce's arrest and the Carlin 'seven dirty words' routine to the post-Nipplegate 'Howard Stern versus Michael Powell and the FCC' era is covered. And everyone from Drew Carey to Dick Cheney are shown to revel in the dirty little word's glorious power. The multiple film and television excerpts are great (though no A Christmas Story?!), and director Steve Anderson has collected a plethora of hilarious interviews with cultural icons who stand on both sides of the filth. Expletive purveyors such as filmmaker Kevin Smith and rapper-cum-actor Ice T give their sides of the argument, while concerned conservatives such as Dennis Prager and Alan Keyes join the likes of Pat Boone in giving their reasons for the word being the end of civilization as we know it.

It's interesting to hear the many takes on the issue, as Kevin Smith feels that it's okay for his young child to hear the word in the home, but will not let her hear it from television and movies like his own. Oddly, Prager opines that it's perfectly fine for children to hear the word from video media, but that they must not hear it from their parents or in their own household. Who's right? Fuck if I know. Just watch the movie.