HOLLYWOODLAND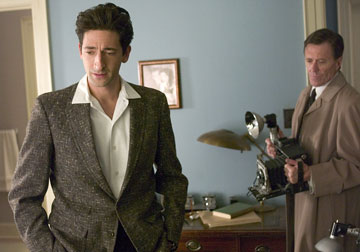 Reviewed by Sam Hatch

AS THIS IS PART OF A YEAR-END DISCUSSION AS OPPOSED TO A TRADITIONAL REVIEW, THERE MAY BE SPOILERS PRESENT IN THE TEXT.

A week before the release of Brian DePalma's noir disaster The Black Dahlia came this much superior Los Angeles period piece from director Allen Coulter. Hollywoodland details the mysterious death of the actor George Reeves, slightly famous for a bit part in Gone With the Wind and much more so for portraying Superman on television in the 50s. Adrien Brody's fictitious ex-cop Louis Simo is injected into the proceedings as a private investigator hired by Reeves' mother to find out if foul play was involved in her son's demise.

Unlike Dahlia, which spiraled off into insanity while senselessly trying to explain the famous unsolved crime, Hollywoodland skirts around the fact that Reeves' death was never officially 'solved' by not attempting its own definite solution. Instead, we're shown multiple possibilities (all leading to the same outcome) as Brody's character mulls over new information in his mind. Some were dismayed by the fact that his ultimate conclusion leads the audience right back to the beginning, but I appreciated how Simo's own damaged life gives him insight into the case and finally leads him to understand elements of Reeves that nobody else can quite sort out.

Yes, there is a bravura performance by none other than Ben Affleck as Reeves, and the volatile chemistry between him and Diane Lane as Eddie Mannix's unfaithful wife is fascinating stuff. Some have pointed out that the Reeves flashbacks outshine the investigatory scenes so much that they wish it were all done as a narrative tale of Reeves' rise to popularity. I still feel that Brody's character added to the sum total, and helped illuminate the darker corners of Reeves' soul. We needed some kind of tour guide, and although historically untrue, he helps unravel the emotional truths of the story. Sure, the private investigator shtick is a cliché, but so is the image of classic Los Angeles itself.