POLICE BEAT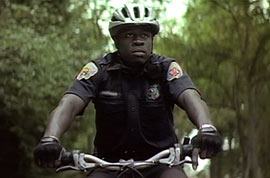 Reviewed by Sam Hatch

AS THIS IS PART OF A YEAR-END DISCUSSION AS OPPOSED TO A TRADITIONAL REVIEW, THERE MAY BE SPOILERS PRESENT IN THE TEXT.

This languid, poetic film from Robinson Devor is an emotionally honest portrayal of how men can drive themselves crazy while their girlfriends are away. The man in this case is Z, a Senegalese transplant now working as a bicycle cop in Seattle. His often humorous take on life and fidelity is offset by a string of random and bizarre events, all real life happenings gleaned from the Seattle police blotter by the co-screenwriter Charles Mudede. Truth is indeed stranger than fiction, and the film's reluctance to explain the insanity is one of it's greatest strengths. The strangest occurrences are all treated with the same level of dispassionate interest by Z, whose only concern is working out whether or not his girlfriend is cheating on him with an old friend during an impromptu hiking excursion.

It doesn't help that Z has no moral compass to keep him grounded amidst all of the chaos swirling about him. His partner is a damaged addict who finds himself drawn to a local prostitute. There are moments when you wonder whether or not the narrative will turn down a dark road into Bad Lieutenant territory, but luckily Z doesn't completely lose himself in the mire of groundless jealousy. Though he doesn't lack for self-induced obstacles. True to the male psyche, there's one great segment in which he finally purges himself of all of the 'worst-case' scenarios he's created after hearing a phone message from his lady friend, only to drive himself crazy with new scenarios later in the same day.

Ex-soccer player Pape Sidy Niang is fantastic as Z, who imbues his character with so much humanity simply through his facial expressions and beaming smile. His humor is similarly delightful, especially as he writes police reports in his own delirious style, such as when he describes a rotting tree as a dangerous entity that will 'plague the living' if allowed to continue its existence. The cinematography by Sean Kirby is a star in itself, with numerous beautiful scope scenes lit with an unearthly blue ambience. Andy Seaver's ambient score also provides a calm, melancholy undercurrent. Police Beat is a meditative journey that is every bit as blissful and maddening as real life can be, and one you can't take your eyes off of until the end credits begin to roll.