SLITHER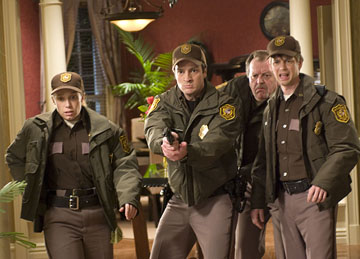 Reviewed by Sam Hatch

AS THIS IS PART OF A YEAR-END DISCUSSION AS OPPOSED TO A TRADITIONAL REVIEW, THERE MAY BE SPOILERS PRESENT IN THE TEXT.

James Gunn's screenplay for the remake of George A. Romero's zombie classic Dawn of the Dead was remarkably clever and refreshingly free from heresy (or arguably not, as many purists despise his decision to favor a post-28 Days Later fast-moving zombie horde), so I was definitely looking forward to his directorial turn with this delightfully twisted horror comedy. It didn't hurt that the cast was headed by Firefly star Nathan Fillion, who is a master of sarcastic, deadpan humor.

The story is remarkably similar to Fred Dekker's underrated 80's space-slug zombie film Night of the Creeps, and both films share a similar post-modern sense of dark humor while still aiming to throw some scares into the mix. Michael Rooker is awesome as Grant Grant, a womanizing sheriff who encounters a pile of extraterrestrial yuckiness in the forest, only to find himself subsequently possessed by a need to stockpile meat while his body starts mutating into a tentacled squid like monstrosity. Interestingly, he becomes the Borg-like consciousness for all of the other zombies created, which creates the hilarious concept of scores of undead villains all pining away for the love of Grant's wronged wife Starla (Elizabeth Banks).

Fellow Firefly alum Gregg Henry is great as the foul-mouthed Mayor Jack MacReady (he calls someone a c-sucker in front of a child when he finds a pickup truck in his favorite parking spot), and he continues to spice up the events with his very Hudson-ish (Bill Paxton's character from Aliens) obscenity laden freak outs. The film deftly balances horrific events, comedic one-liners and gross out gags throughout its running time, and is an unapologetic good time creature feature. Recommended for horror fans and Firefly geeks alike. And for fans of Gunn's The Specials, which you should go look up if you haven't heard of it.