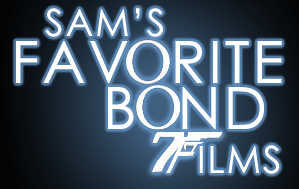 As a lifelong James Bond fanatic, acolyte and all around freak, I realized that I couldn't let my corner of this website sit idly by with only a handful of 007 film reviews on it. Each time a new Bond film is released, just about every cinema publication drops an organized roster of their favorite entries in the series. I might as well jump on the bandwagon and do likewise - the sole difference between mine and Entertainment Weekly's being that I'm not insane! Seriously, seldom do two Bond lists agree, so I have already forgiven you for screaming "What is wrong with you?!?" at your computer screen in frustration. On the rare instance that you do agree with my selections, then cheers! Here's hoping the next film (due out in 2008) can crack the top five!
1 - ON HER MAJESTY'S SECRET SERVICE (1969)

George Lazenby's myopic decision to sabotage his Bond franchise career after only one outing may be a running joke amongst the Bond intelligentsia, but he really has had the last laugh by starring in such an incredible film. Until Casino Royale came around, OHMSS really was the first glimpse into a truly human Bond - and alongside Vesper Lynd, Diana Rigg's Teresa Di Vicenzo is the most important bond girl in the series. Telly Savalas may be an odd choice for Blofeld, and Irma Bunt is really just another spin on Rosa Klebb, but the film as a whole is a miraculously faithful recreation of one of Ian Fleming's best Bond novels. Sadly, this was editor Peter Hunt's only opportunity to direct a Bond feature, but he does a marvelous job.

After a great opening introduction and fight scene (complete with postmodern fourth-wall collapse at the end), the film revels in the usual Bond high-life (casinos and Aston Martins) while plumbing the mysterious depths of Tracy's suicidal lifetstyle. Her father Marc Ange Draco is another charming ally – steeped in the criminal world, but eager to overlook career differences if Bond can marry his daughter and make her happy. For people who love winter, the later Swiss scenes are wonderfully romantic and will have you booking a trip to visit the mountaintop restaurant Piz Gloria in a heartbeat. Like Casino Royale, the film also shows a progression in character, for although Bond woos and screws Tracy in the first portion of the film, he's more than happy to bed the numerous beauties at Blofeld's allergy clinic high in the Alps. It's only after reconnecting with Tracy and enduring a series of wild car and ski chases that he truly falls in love with her. All the more harrowing when she is murdered by SPECTRE immediately after their wedding. The film closes with Bond weeping over his dead bride, the absolute ballsiest denouement in the entire series.

Music – Fan-freakin'-tastic! Barry delves into Moog sounds but pulls it off so well it still sounds fresh today. The instrumental titles song is amazing, driving stuff, and Louis Armstrong's final song We Have All the Time in the World is pure class. The only head-scratcher is the bizarre song Do You Know How Christmas Trees Are Grown?, but it is a bit of kitschy fun in the long run.

Favorite line: "I have taught you to love chickens"'

Favorite Gadget: Radioactive Lint

Favorite Car: Aston Martin DBS

2 - CASINO ROYALE (2006)

For a more fleshed out explanation of why I love this reboot of the series, feel free to stop by here and here. As a quick note, I can say that experiencing this film felt like going in a time machine and being able to visit the golden days of Bond. I had been dutifully going to see every film in the franchise, but had forgotten just how wonderful a buzz it was when you were watching sheer 007 brilliance on the big screen. Daniel Craig, Purvis & Wade, Haggis, Campbell and even David Arnold have all outdone themselves.

Music – Surprisingly great! I absolutely love the Chris Cornell title track, and enjoy the numerous themes Arnold incorporates throughout.

Favorite line: "The job's done and the bitch is dead."

Favorite Gadget: Sony Blu-Ray Player (just cuz I want one)

Favorite Car: Aston Martin DBS

3 - FROM RUSSIA WITH LOVE (1963)

The second film in the canonical Bond series sees Connery and Young biting into Fleming's great novel with a remarkably faithful adaptation by Dick Maibaum et al. Delightful is the word of the day, and accurately describes both model-turned-actress Daniella Bianchi as Tatiana Romanova and Pedro Armendariz's character Ali Kerim Bey. Bond travels to Istanbul to inspect this Russian hottie who swears she'll defect now that she's fallen in love with 007's photograph. The funny thing is that nobody buys into the ruse, but Britain wants a Russian decoder machine so bad they're more than willing to risk Bond's life in the process. Every scene with the ailing Armendariz is charming, from an assassination attempt on Anita Ekberg's mouth to a rollicking dinner/fracas at a Turkish gypsy camp.

Then there's Red Grant (played with menacing precision by Robert Shaw), the sociopathic, taciturn murderer whose mission it is to bring down James Bond. Grant casts a huge shadow over the franchise, and nearly every subsequent henchman owes him a debt of gratitude. The eventual fist fight between him and Bond aboard the Orient Express is another tightly edited marvel of violence, and has also been aped numerous times. The villains are among the best in this entry, for even though Blofeld is still an unseen voice at this point, we still have Walter Gotell's Morzeny (who later plays General Gogol in the series), Red Grant and the amazing Lotte Lenya as the poison-shoe wearing, knee-squeezing myopic lesbian Rosa Klebb. Her casting was a bit of genius.

Music – John Barry taking over the reigns from Monty Norman, which no offense to the latter is definitely a step in the right direction. He doesn't fully let loose yet, but the score is serviceable as expected, and does mark the first appearance of the percussive 007 Theme. Matt Munro's title song sadly doesn't get showcased during the opening credits, but does arrive after the film.

Favorite line: "No, it's the right size, for me that is!"

Favorite Gadget: Garrote Watch

Favorite Car: Bentley 4 ½ Liter Sports Tourer

4 - GOLDFINGER (1964)

One of the biggest films in the franchise, and one that cemented the alternate, more fantasy-oriented template for the series. Many of the cinematic Bond staples were fully unveiled in this film. Gert Frobe's Auric Goldfinger is an ore-crazed madman who hates losing at cards and desires to irradiate the gold supply at Fort Knox (with a little help from the Chinese government) so that America's currency will falter and his own gold stockpile will be worth a fortune times ten. The film is chock full of great moments, from Shirley Eaton's gold-painted corpse to Odd Job crushing a golf ball after his boss is bested by Bond at a tense game on the green. Even Bond's blue terry-cloth robe and a super-cheesy model airplane can't ruin the day. The American locales (Miami and Kentucky) are actually fun as opposed to embarrassing like in the 70s features.

Avengers co-star Honor Blackman shook things up with her Pussy Galore, a lighter version of the novel's uber-lesbian leader of the gang 'The Cement Mixers'. As Sick Boy from Trainspotting points out, her 'immune' system being overloaded by Bond's charms proves his sexual superiority to all other men – thereby making all other men want to be him all the more (Sick Boy not included). The film also introduces Bond to the world of the Aston Martin, and 007's hyper-stocked DB5 rightfully became known as 'The most famous car in the world.' Unlike his efforts in the 70s, Guy Hamilton managed to direct the film with the perfect balance of seriousness and silliness – and helped realize the concept of Q 'previewing' all of his gadgets to Bond early in the film.

Music – John Barry begins to stretch his legs a little. The title song by Shirley Bassey is an instant classic, and while the overall score isn't the best of the best, there are moments (such as the cool, pumping theme for the aerial gas attacks and the Sneaker Pimps-sampled harp in the track Golden Girl) that show why Barry is the right man for the job.

Favorite Line: "Hey, what's with that trick pool table?"

Favorite Gadget: Steel Rimmed Bowler

Favorite Car: Aston Martin DB5

5 - THE LIVING DAYLIGHTS (1987)

Timothy Dalton stepped into Bond's shoes for the first time with ease, and after the exciting action opening on the rock of Gibraltar, it felt like he'd been James Bond all along. The short Fleming story is recreated early on, as Bond scopes out potential assassins during a scheduled defection of a Russian bigwig (Jeroen Krabbe's Georgy Koskov). He realizes that the other side's assassin is merely a cello player with a gun, and disobeys his orders by sparing her life. Crosses become double crosses, and the film snakes from Vienna to Tangiers to Afghanistan before long, revealing plot ties to Pushkin (John Rhys Davies) and arms dealer Brad Whitaker along the way. Rhys Davies and Krabbe are great, as is Andreas Wisniewski's athletic murderer Necros (a spry rewrite of the Red Grant template), who kills people with headphone wires and exploding milk bottles. The attack on the British Embassy is brilliant, as is much of the action in Afghanistan and the dangerous fight on the tail of a Hercules aircraft laden with sacks of heroin. It's also politically interesting to revisit a time when Western allies had no problem funding Osama Bin Laden and Afghani rebels when the Russians were on the opposing end of their gunsights.

Dalton recaptures the danger of Bond, but contrary to popular belief he doesn't jettison all of the humor either. He drives an Aston Martin again, leading to a great car chase/cello-case sledding scene. His anger and anxiety is palpable in many scenes, and until Casino Royale, he gave the first hints of Fleming's Bond to be seen in years. And yes, he is largely monogamous during the film (though it's pretty much a given that he banged the girl on the boat at the end of the opening), but then again so was the Bond of the novels. Dalton, I miss ye!

Music – Fantastic! John Barry once again proves that he's just about the only Bond scorer who can dabble in electronic sounds successfully. There's an electro beat beneath a lot of his work here, but it sounds great. I actually like the a Ha opening tune due to its frantic energy, but one shouldn't forget the two Chrissie Hynde tunes (Where Has Everybody Gone and If I Had a Man) that tie in greatly to Barry's score. And his Kara's Theme is just lovely.

There are a few moments in the Afghanistan section that really illuminated for me why I love John Barry. He does himself discredit by stating that he just goes 'over the top' for Bond scores, since he actually pulls off some other interesting tricks as well. Mainly, he writes 'love themes' for moments or places, not just the sexy females. He'll introduce wistful, haunting melodies over location shots (or even battle scenes!), instilling in the viewer a longing to be there – whether it's in the arms of a beautiful woman, on a camel in the desert, or on the explosive tarmac of an Afghani air strip. The guy's just brilliant in a word.

Favorite Line: "I had a few optional extras installed"

Favorite Gadget: Ghetto Blaster

Favorite Car: Aston Martin Vantage/Volante V8

6 - THUNDERBALL (1965)

This was supposed to be the first James Bond film adventure back when it was called 'Longitude 49 Degrees'. Fleming cobbled together the idea with co-writers Jack Whittingham and Kevin McClory. While the project floundered, Fleming later made the pooch-screw move of adapting the screenplay into the novel Thunderball, thereby giving McClory too much control over his empire. Fleming messed up, so Thunderball and many of the major Bond elements such as SPECTRE and Blofeld became property of McClory once the courts had their say. Not happy with just that, McClory still proclaimed that he was the rightful creator of the 'cinematic' James Bond, and decided to remake Thunderball as Never Say Never Again in 1983. Luckily, he never got the chance to lens Warhead 2000 or any of the other remake ideas after that.

The good news is that in the sixties McClory was able to team up with Eon to make Thunderball instead of crafting his own flick independently. That means we get Connery and Barry and Terence Young doing what they do best. Blofeld's agent Emilio Largo hijacks an atomic bomb in order to hold the world at ransom, and Bond must go to the Bahamas (boohoo!) in order to stop him. The opening antics at the Shrublands health resort are a fun build-up to the plot at hand. And the pre-titles sequence is a hoot, complete with rocket pack and a violent fight with an old lady (made even more jarring by the cool, choppy editing by Peter Hunt). Some complain that the underwater scenes are too long, and some of the high-speed back projection action in the finale aboard the Disco Volante looks fairly silly – but the model Vulcan crashing into the ocean is still remarkably effective.

Music – Great! John Barry shows Marvin Hamlisch how to score correctly with an 'underwater' style. The Tom Jones title track is over the top and fabulous, and there's a story going round that he passed out after holding the final note for so long.

Favorite Line: "Open the underwater hatch"

Favorite Gadget: Bell Jet Pack

Favorite Car: Aston Martin DB5 again

7 - YOU ONLY LIVE TWICE (1967)

Sean Connery's 'final' film in the franchise is one of those 'everything but the kitchen sink' affairs. It's the Goldfinger fantasy formula taken to the nth degree, but I still love the thing. Sure, Helga Brandt is a knockoff of Fiona Volpe and the gargantuan Connery can't really pass for Japanese no matter how much makeup you apply, yet there's still plenty to dig. The story of the film (involving SPECTRE hijacking spacecraft from both the US and Soviet forces in an effort to kick start WWIII) became a template for future entries such as The Spy Who Loved Me and Tomorrow Never Dies. The locales are great, as are Akiko Wakabayashi and Mie Hama as two of Bond's Eastern allies. Tiger Tanaka is a delightful 'Kerim Bey' style ally. The post-teaser opening (in which Bond is effectively 'killed' by machine gun fire) is spectacular stuff. I love one early fight scene at the Osato headquarters in which Bond takes on a heavy by wielding a sofa! The aerial shot of a fight on Kobe docks is pure genius. And as comical a concept as Little Nellie is (it was real by the way), the subsequent aerial battle is still a hoot. Plus, there's a hollowed out Volcano! And a giant Ken Adam set that is pretty damned cool despite its gluttonous waste of budget. And Donald Pleasance's Blofeld is great. Plus, there're Ninjas!

Music – Awesome! John Barry with one of his absolute best scores. The Space March theme is easily the best piece of Bond score music next to the James Bond and 007 themes. The Kobe Docks section is another soaring moment that only Barry could conjure. The title track by Nancy Sinatra is supercool, with a great bendy guitar line. It's since become inspiration to more modern acts such as Radiohead and Robbie Williams.

Favorite Line: "Good choice. She's very sexyful."

Favorite Gadget: Cigarette pistol

Favorite Car: Toyota 2000 GT

8 - LICENCE TO KILL (1989)

Timothy Dalton's second foray into the Bond canon is a dark, revenge-fueled picture that many complain feels too Miami Vice-y to make a great 007 movie. For Fleming fans, there are plenty of delights here – from Felix Leiter's shark encounter from Live and Let Die to The Hildebrand Rarity's Milton Krest. Robert Davi and Benicio Del Toro are dangerously suave drug pushers, using Wayne Newton (!) as an evangelical front to their powder business. Talisa Soto and Carey Lowell both fight for Bond's affections. One of the nicest parts of the film is Q's decision to help Bond in the field despite the fact that the spy resigned from the job early on in the film to go on a personal vendetta. There's a super cool lair towards the end (Newton's 'holistic' retreat/cocaine factory) and a great chase scene involving tanker trucks. It does push the envelope a bit, but I still love it.

Music – Decent - no Barry, but Michael Kamen does an adequate job. He goes with the subject matter and writes with a latin flair for the bulk of the film. The strings for the opening title song by Gladys Knight actually sound kinda Barry-esque, which is cool. The end credits tune by Patti LaBelle (If You Asked Me To) later became a mega-hit for Celine Dion. Overall, nothing to write home about, but at least there's no synth-heavy disco!

Favorite Line: "Bless your heart!"

Favorite Gadget: Dentonite Toothpaste Explosive

Favorite Car: Kenworth W900B Truck

9 - DR. NO (1962)

This introduction to the cinematic James Bond may feel a little quaint next to its brethren due to the low budget, but over the years I've found that it keeps growing on me. Connery's Bond travels to Jamaica to investigate the death of British agent Strangways, encountering Joseph Wiseman's diabolically classy Dr. No in the process. Along the way he meets Jack Lord's Felix Leiter, John Kitzmiller's boatman Quarrel and the superhot shell collectrix Honey Ryder. It's hard to imagine the jack-inducing impact of her emergence from the water now, but it really changed sexuality in the cinema.

Ken Adam's sets are cool. Connery's cold hearted plugging of Professor Dent is the stuff of legend, and although there isn't an overload of exotic locales and John Barry hadn't yet stepped into the scorer's shoes, Dr. No is a blast and I'll watch it again at the drop of a hat.

Music – Monty Norman injects some cool island flavor, but he isn't much for actual scoring. Even his classic James Bond theme was most likely largely written by John Barry (click here for an interesting play-by-play of one Barry vs. Norman court case). The 'titles song' template hadn't been fleshed out yet, so we get a calypso version of Three Blind Mice instead. The best jam on hand is Byron Lee doing the Jump Up. On a musical side note, Island records owner Chris Blackwell was the production's location scout. He now owns Ian Fleming's Jamaican home Goldeneye.

Favorite Line: "That's a Smith & Wesson, and you've had your six… "

Favorite Gadget: Walther PPK

Favorite Car: Sunbeam Alpine

10 - FOR YOUR EYES ONLY (1981)

The best and most serious of the Moore Bond outings, it also earns brownie points for dipping back into the Fleming source stories for some elements. Carole Bouquet is great as the vendetta-minded, bow hunting expert Melina Havelock, and there are plenty of great snowbound scenes hearkening back to the classic moments of OHMSS. Indeed, referencing Tracy's name in the opening is a masterstroke, which is unfortunately mired by a silly scenario involving Blofeld, even though the filmmakers can't call him such due to McClory's rights. Bond makes up for his wealth of scruples (refusing to bed a young ski bunny) by later losing them when he kicks a villain's precariously perched car right off of a cliff! Topol's Columbo is another fun character, and the final assault on an impossible-to-reach mountaintop is very cool. There's even an exploding Lotus Esprit!

Music – once again Barry leaves the fold only to be replaced by some awfully horrid Disco-Cheese. This time at the hands of Bill Conti, who still manages to craft a haunting title song with Sheen Easton (who was the first and last Bond theme singer to appear onscreen during the titles sequence).

Favorite Line: "Now put your clothes back on, and I'll buy you an ice cream."

Favorite Gadget: Identigraph Machine

Favorite Car: Lotus Esprit Turbo 2.2 (Red)

11 - THE SPY WHO LOVED ME (1977)

The first Moore Bond film to really find its footing, it manages to get back to exotic locales and effective action. Per Ian Fleming's wishes, the film jettisons the original novel's story for one of a Russian Agent forced to work with James Bond even though he killed her man and represents the capitalist west. Walter Morzeny is as always delightful as her boss General Gogol, and if some of the cold war schtick wears thin after a while, there's plenty to love elsewhere. Stromberg's sub-swallowing tanker is lifted straight out of YOLT, but his underwater lair is pretty darn cool. As is the amphibious Lotus Esprit that gets a workout from Caroline Munroe's vicious henchwoman Naomi. There's the gob smacking opening ski stunt, and some great locations including Egypt. There's still a bit of Moore-ian goofiness to be had (Mankiewicz did secretly work on the script), mainly during Bond and Anya's encounters with Richard Kiel's menacing monstrosity Jaws. Like the best of the Bond films, it takes you on a journey, and the ending battle aboard the tanker is just as cool as some of the flicks from the sixties.

Music – Marvin Hamlisch co-writes one helluva theme song, but trashes the rest of the film with a god-awful synth-mess that sounds like it was recorded underwater on purpose. Goofy, crappy sounding… well, crap!

Favorite ine: "When one is in Egypt, one should delve deeply into its treasures."

Favorite Girl: Teletype Watch

Favorite Car: Submersible Lotus Esprit (Wet Nelly)

12 - THE WORLD IS NOT ENOUGH (1999)

When I saw this in theaters for the first time in '99 I thought it was my favorite of the Brosnan Bonds to date. Then I didn't watch it for a long time and my estimation of it sank. Then I popped in the DVD and sure enough, it was my favorite Brosnan film. I don't know why, but certain elements of the film work rather well, and while the whole thing may come across rather boring on paper, the experience of watching it is something else.

I loved Sophie Marceau's demonic Elektra King character, and although the concept of feeling no pain is ultimately wasted, in retrospect I can appreciate the pathetic nature of Robert Carlyle's near-villain Renard. Zukovsky comes back, which is cool. Denise Richards somehow manages not to submerge the whole thing, and her annoying antics somehow don't bother me. I loved the skiing scene with the machine-gunning para-gliders. Once again the BMW doesn't get much to do, but at least it fires off a rocket while it can. I also quite enjoyed the third act, and cements this film as the Bond film I love even though I should hate it.

Music – Good. Arnold hits a few high notes and crafts a few memorable melodies. The opening song by Garbage is decent if not great. I had always been hoping for a Bjork or Radiohead opening tune during the nineties, but 'twas not to be.

Favorite Line: "I don't know any doctor jokes."

Favorite Gadget: X-Ray Vision Eyeglasses

Favorite Car: BMW Z8

13 - TOMORROW NEVER DIES (1997)

I used to like this film a lot more than Goldeneye due to a few elements that it got right, but as time passes plenty of it falls short of the mark on its own. As Hong Kong filmmaking becomes popular again thanks to Jackie Chan, Michelle Yeoh is thrown into the mix as a tough Chinese agent who can hold her own against Bond. Thankfully, Yeoh and her team were involved in most of the fighting, and the inclusion of martial arts doesn't feel exploitative like it did in TMWTGG. Jonathan Pryce chews up the scenery as a thinly veiled Rupert Murdoch media mogul named Eliot Carver. Teri Hatcher comes out of nowhere as a 'woman from Bond's past', in an effort to bring a little gravity to the proceedings.

I was excited to see Bond fight with random objects again (in this case a large lamp), and delighted in Vincent Schiavelli's wryly comic performance as the assassin Kaufman. Even the silly remote controlled car scene in a parking garage brought a smile to my face. But somewhere in the second act the film loses momentum, and the big finale aboard Carver's stealth ship (in itself a cool throwback to vehicles of villains from days of yore) never picks up the steam it needs. Carver's Germanic bodyguard Stamper never outshines his roots as a Red Grant rip-off. Many people disliked the plot, but I kind of dug the 'faked news' angle and thought that the megalomaniacal nature of Carver was closer to reality than with most Bond villains. He never ultimately gets much to do aside from mugging and being outrageous, but with Jonathan Pryce doing it I don't really mind.

Music – Decent. David Arnold comes off of his 'Shaken and Stirred' project with a cool techno vibe that actually works with the film instead of dating it horribly. The Sheryl Crow tune is good, but she doesn't have the range to actually sing it. In this regard, the closing theme from K.D. Lang (Surrender) is definitely the more accomplished piece of the two.

Favorite Line: "No, no this is more like a hobby... but I am very gifted. "

Favorite Gadget: Mobile Phone

Favorite Car: Aston Martin DB5

14 - MOONRAKER (1979)

Most fans hate this film with a passion, and view it as a knee-jerk reaction to Star Wars that's loaded with nonsense and comic-book action. Fair enough. But at least the space-borne indulgences of the final act are rooted in some sort of reality, and working with NASA to use the likeness of the newly minted Space Shuttle added a level of verisimilitude to it all. I never found the lasers in space as groan inducing as the double takes in Venice when Moore drives his gondola onto dry land. Richard Kiel's Jaws returns during a breathtaking freefall opening (sadly marred by a slapstick finale), though he kind of overstays his welcome. As do the proliferation of ads – people complained about the advertisement in Casino Royale, but have them watch this again and they'll suddenly feel the need to bathe in 7Up and Seagram's Gin.

The centrifuge scene is pretty cool, and I've always loved Michel Lonsdale's Hugo Drax. It's too bad the card showdown from the novel was jettisoned, but when he orders his henchman to 'see that some harm comes to' Bond, its great stuff. The dreamlike execution of Corinne's murder by hounds is also a shining moment. Locations are also a plus – the American scenes don't feel kitschy like the rest of the 70s films, and Italy, Brazil and France are very welcome sights. Not that great, but I'll take it over the Mankiewicz/Hamilton stuff any day of the week.

Music – Great! John Barry in a similar mode to the work he was doing in The Black Hole. He creates some very nice melodies and moods. Shirley Bassey returns for the third time, and while it's the lesser of her Bond entries, it's passable. Minus the cheesy disco version during the end credits, that is.

Favorite Line: "Look after Mr. Bond. See that some harm comes to him."

Favorite Gadget: Wrist dart gun

Favorite Car: MP Roadster

15 - DIE ANOTHER DAY (2002)

Two films for the price of one. The first half is crackin' good stuff while the second half is overblown fluff. The scenes in Korea, Hong Kong and Havana are all very good, but when the film moves to an ice hotel in Iceland, the script starts to fall through the cracks so to speak. On the plus side is a fantastically vicious fencing match and a great night-surfing intro scene. Halle Berry kind of stinks as Jinks – I much preferred Rosamund Pike's Miranda Frost character. Overall it's a weird concoction, so I just prefer to enjoy the bits I really like and forget about the atrocity that is the iceberg windsurfing scene. Visit here for my review.

Music – Okay. David Arnold returns for the third time with another serviceable nod to Barry's style, if not nearly as memorable. Madonna's acting doesn't sink the film, but her music almost does. Her title song is horrendous, all the more strange considering she's already made a few Bond-worthy tunes (like Frozen) during her Nelly Hooper phase.

Favorite Line: "Still, better than looking cleverer than you are."

Favorite Gadget: Surfboard w/ armory

Favorite Car: Aston Martin V12 Vanquish

16 - OCTOPUSSY (1983)

Octopussy has its moments, but it's still mired in juvenile humor (and the fakest looking tiger attack ever!). The opening gag with an Acrostar jet barnstorming a military hangar in Latin America is pretty dazzling, and I appreciated the effort to inject a few elements of Fleming here and there (namely the title story and the fellow short story "The Property of A Lady"). Though once it moves to India, that country never quite feels as exotic as it should. Perhaps because there were other films mining similar territory around the time - Indiana Jones and the Temple of Doom springs to mind, even though Octopussy came out first.

Louis Jordan, Maud Adams (returning as an unrelated main Bond girl!) and Kristina Wayborn are all great, as are the menacing Gobinda (Kabir Bedi) and tennis star Vijay Amritaj as Bond's Indian contact. Sadly, the denizens of the country are often treated as the butts of stereotype jokes (the nail bed gag springs to mind). Plus, Steven Berkoff's Russian General Orlov was a little too over the top for my liking. I also failed to connect with the circus element of the story, and while some feel that Bond's desperate attempt to defuse a nuke whilst in full clown dress was a wonderful, dramatic juxtaposition, I found it to be a fitting comment on what Roger Moore's James Bond had become.

Music – Decent. John Barry scoring the project is definitely a plus, though I think I like his work on the following film A View To A Kill more. Still, I'd pop the soundtrack CD in my car any ol' day. Not a big fan of the Rita Coolidge number All Time High, and while it does tend to stick in your head (as does the Pulp cover version from Shaken And Stirred), it doesn't exactly feel Bondian enough.

Favorite Line: "Spend the money quickly, Mister Bond."

Favorite Gadget: Yo-Yo Saw

Favorite Car: Alfa Romeo GTV6

17 - GOLDENEYE (1995)

I've gotten a little softer on this film over time, but when I saw it for the first time I was ready to walk out of the theater after the opening scene (the one where Bond drives a dirtbike off of a cliff in order to free-fall into a diving plane only to miraculously pull it up into the air at the last second). As someone who had been spoiled by Timothy Dalton's two outings previously, the James Bond of Goldeneye just never felt like the James Bond that I wanted to see. I never bought the invented history between Bond and 006 (and it didn't help that the advertising ruined the 'twist' of the whole thing already), and didn't really like the other villains either. Ourumov wasn't as over the top as General Orlov in Octopussy, but he still left me cold. I like Famke Janssen, but I found her character Xenia Onatopp crossed the line from kitschy cool and went straight into stupid. (She has orgasms by shooting air ducts? Give me a freakin' break here!) Yeah, I get it – she squeezes you to death when she screws you and you die with a smile on your face. Hi-larious.

Joe Don Baker returns to the Bond fold (he played arms dealer Whitaker in TLD), but his CIA agent Jack Wade is a shoddy stand-in for Felix Leiter. On the plus side, Robbie Coltrane's Valentin Zukovsky is a rather welcome addition to the series, and Minnie Driver's cameo was actually amusing. The much-loved St. Petersburg tank chase was slightly too goofy (sipping champagne and adjusting your bow tie, c'mon!), and the sight gag with the statue atop it didn't really work. And then there's the BMW Z3 which only gets to drive down a beach before its keys are suddenly handed off to Wade. There are some great moments (the bungee dive in the very opening is spectacular, the ending at the gigantic radio telescope satisfies a lot more than I initially recalled), but I still don't get why people love this film so much, apart from the fact that as a Bond for a whole new generation it might have been the first one they'd seen. And wow! Those scenes with M berating Bond for his status as an anachronism are really pointless. They date the film far more than anything, and there really was no need to explain why a spy is doing what he is doing. Paranoia got the best of the writers and producers, I'm afraid.

Music – Okay. U2 Members Bono and the Edge write the theme song, only for Tina Turner to sing it. Not too bad if not overly memorable. Eric Serra handles the score, and delivers his usual synth & sample percussion-heavy style. I liked his score for The Professional, and I had heard the Goldeneye CD numerous times before seeing the film. So oddly, I liked the music on its own but didn't love it in the final film.

Favorite Line: "Walther PPK, 7.65 millimeter. Only three men I know of use such a gun. I believe I've killed two of them."

Favorite Gadget: Ballpoint Pen Grenade

Favorite Car: Aston Martin DB5

18 - A VIEW TO A KILL (1985)

More Moore doing his shtick. This time with Christopher Walken as a Boys From Brazil-ian Nazi uber-clone out to destroy Silicon Valley in an update of the Goldfinger plot template. American bimbo Stacy Sutton (Tanya Roberts) never quite works, and the film is full of the usual tomfoolery. (In the intro, Bond invents snowboarding while The Beach Boys' California Girls blares over the soundtrack) On the plus side, Avengers co-star Patrick McNee joins the cast for some of the fun. Rock/fashion star Grace Jones is a weird addition to the cast, and one is never sure of why Bond finds her manly physique sexy enough to shag. He might has well have bedded Zorin while he was at it. Walken is fun, as is the staged fight atop the Golden Gate Bridge and a jump from the Eiffel Tower, and the concept of an earthquake swallowing up Silicon Valley was real enough to be scary. The rest of film however is relatively by-the-numbers work.

Music – Good. Duran Duran's title song is a catchy pop number with surprisingly heavy drums and chord progressions. John Barry returns as composer, which is always a good thing. The score isn't as great as The Living Daylights, but it's decent enough.

Favorite Line: "A little restless but I got off eventually."

Favorite Gadget: Lockpicking Credit Card

Favorite Car: Renault 11 Taxi

19 - DIAMONDS ARE FOREVER (1971)

After the traumatic ending of On Her Majesty's Secret Service, you'd expect the following film to be a very serious-minded revenge picture. Sadly, the comedic skills of screenwriter Tom Mankiewicz were on hand to reset the Bond template for the 70s – rife with goofy antics, sillier one liners and a severe lack of gravitas. Sean Connery returns as Bond following Lazenby's ill advised decision to look for more cash, which is too bad for all involved. If Sean had stuck around for OHMSS, it would have been one hell of a swan song. Instead, he sidestepped the great film only to come back to the Eon feedbag for a hefty paycheck (which he donated to his Scottish Education charity) and a sweet production deal. Bond does go out for a bit of half-assed revenge in the intro, but once that's over he seems to forget his angst once the plot begins. Slightly similar to the novel, DAF sees Bond trying to inject himself in a diamond smuggling pipeline leading from the African mountains to Amsterdam to Las Vegas, Nevada. Whereas the end of the pipeline in the book led to a mafia connection, the bigger-is-better attitude of the films evolves into that to a Blofeld-masterminded diamond weapon in space.

Blofeld in this film (played by a rather unthreatening looking Charles Grey, returning from his role as Dikko Henderson in YOLT) is usurping the wealth of Jimmy Dean's hotel magnate Willard Whyte. Based on a dream of Broccoli's Whyte/Blofeld has been cast as a Howard Hughes type recluse, holed up in the top suite of his hotel. The film has its moments – a fight scene in a glass elevator is fantastic, as is a near-cremation in a Vegas funeral home. Wint and Kidd can also be effectively creepy henchmen at times. Other than that, Mankiewicz et al saddle it with too much goofiness. Jill St. John as Tiffany Case just never did it for me (she's just too damned loud and annoying). James Bond gets his ass handed to him by two women (Bambi and Thumper), but his real defeat comes from wearing an ungodly super short and wide pink tie. If he hadn't been acting clownish enough, he later races a bunch of nondescript Mopar vehicles in a stolen moon-buggy prototype. There's a lot of car racing, car crashing, brassy American chicks and non-charismatic gangster types. Like Vegas, it's tacky when it should be classy. And it pretty much reminds me of why the seventies in the States outright sucked. Too American (John Gavin was just about set to step in for Connery as Bond) and not quite interesting enough. Plus, the finale really fizzles when it should explode.

Music – Okay. Barry is on board, but the themes never soar as high as they should. The Shirley Bassey opener however is nice and atmospheric.

Favorite line: "Named after your father perhapsh!"

Favorite Gadget: Electro-Magnetic RPM Controller

Favorite Car: Ford Mustang Mach 1

20. LIVE AND LET DIE (1973)

Roger Moore's first outing as James Bond is less suave than embarrassing. Here, you have a very out of place looking Brit (in exceptionally bad 70s clothes) romping around Harlem while being called a 'honky' by just about everyone. It's hard to take him seriously when nobody else seems to. On the plus side, just about every villain is great, from Julius Harris' steel handed Tee-Hee, Geoffrey Holder's diabolically theatrical Baron Samedi to Earl Jolly Brown's raspy-voiced Whisper and of course the brilliant Yaphet Kotto as Mr. Big / Kananga. Once again, the heroin-tinged plot doesn't really take off (neither does an airplane in a ground based chase scene with Bond playing the clown again), but at least Bond gets to bed Gloria Hendry and Jane Seymour.

The film is the essence of a mixed bag – the opening jazz funeral is great, but then the introduction to Bond in his flat doesn't really add up, with Bond in essence playing a horny teen trying to hide a girl in his closet before his dad (M in this case) finds out. I wasn't a giant fan of David Hedison as Felix Leiter in this film, but his inclusion is noteworthy in that he's the only one to date to appear in more than one film. Oddly, I liked him a lot more when he returned in License to Kill. There's also the unwelcome element of Louisiana Sheriff J.W. Pepper, whose redneck mentality is no match for the British spy. If you love blaxploitation films and the Smokey and the Bandit series, perhaps you'll be more forgiving than I. Overall, it suffers from a lack of John Barry, an overload of Tom Mankiewicz and too much of a 70s American feel.

Music – George Martin's score feels a bit too much like it's accompanying a Made-for-TV movie. Not subtle or moving enough by a long shot. The title song by McCartney's Wings is a smash though.

Favorite Line: "Names is for tombstones, baby!"

Favorite Gadget: Espresso Machine

Favorite Car: Morris/Austin Mini Moke

21 - THE MAN WITH THE GOLDEN GUN (1974)

More Mankiewicz-penned/Hamilton-lensed silliness. Half Enter The Dragon rip-off, half boiled over crap. Christopher Lee should have been a great anti-Bond villain, but as dignified as his performance is, he can't polish this turd. Fleming's character Mary Goodnight finally appears, but is rendered a goofy bimbo at the hands of Britt Ekland (sadly, she didn't dance naked to folk tunes in this one). Most of the cars are produced by AMC, which is a blasphemous entry in the Bond canon. However, the spiral bridge jump performed by Loren "Bumps" Willert is spectacular, yet sadly gets mired by the annoying sound effect layered over it.

And then there's Sherriff J.W. Pepper, who is always an unwelcome sight. Somehow I fail to laugh every time he calls someone a 'goony bird' or falls into a body of water. Fantasy Island co-star Herve Villechaize's Nick Nack is mainly played for laughs. And while the exotic locales (Hong Kong, Bangkok, Phuket) are fun to watch, the energy crisis plot and lack of an exciting villain lair (I think there's maybe one random henchman in the whole place, Nick Nack not included) deadens the overall experience. The one bit of silliness I actually get a kick out of is the half-sunken ship in Kowloon Bay, complete with a replica of M's office, built at an angle to offset the steep grade of the capsized vessel.

Music – Okay. Barry returns, but doesn't exactly return to form. The overall score is rather uninteresting, and the zesty opening track by Lulu is laughable.

Favorite Line: "There's a useful four letter word, and you're full of it!"

Favorite Gadget: The Golden Gun

Favorite Car: MGB
CLICK HERE FOR MY ESSAY ON EON'S BOND REBOOT!