OLD NEWS FROM A BRITTLE, YELLOWED NEWSPAPER
OR GO BACK TO THE NEW NEWS FROM THE REALLY REAL WORLD!
November 7, 2011 - The Dogs will soon be breaking out of the radio kennel to deliver movie news via your television screens on WFSB Channel 3. More news to follow, but expect the first appearance to be on the morning of Sunday, November 20th!
November 6, 2011 - In case you missed the show tonight, my interview with director Chris Metzler has been posted on Archive.org. Chris will be in town this upcoming weekend to host Q&A sessions at Real Art Ways following screenings of his new music documentary "Everyday Sunshine: The Story of Fishbone". As a longtime Fishbone enthusiast, I have to say I learned a ton of things about the band I had no idea about. Even non-fans will be entertained by this fascinating expose of how late-70s Los Angeles desegregation efforts created one of the most eclectic, heinously talented musical groups ever, and how band democracy, lunacy and weird circumstances kept them from gaining the same level of fame as peers like The Red Hot Chili Peppers. And how two founding members refuse to let that stop their musical career. Imagine a much funkier version of "Anvil - The Story Of Anvil" and you'll be in the right neighborhood. Listen in here:
November 6, 2011 - So "Puss In Boots" scratched its way to the top of the (litter) box office over the weekend, but "Tower Heist" was a nice little throwback to 70s crime fare, and even die-hard Brett Ratner haters may have to admit they had a good time with it. An even bigger suprise was the unexpected stoner threequel "A Very Harold & Kumar 3D Christmas" - not only was it funnier and better scripted than the second film in the series, but its gratuitous usage of in-your-face 3D nuttiness made the extra ticket price seem worth it. Sure, there's a subplot involving a drug-crazed baby that's way wrong, but it's also got Danny Trejo in a prominent role and introduces what's arguably the awesomest automaton character ever - Wafflebot! R2-D2 never delivered syrupy breakfast goodness...
November 3, 2011 - Not much can contain my Bond-nerd overdosing after today's press conference for Skyfall - the 23rd "official" 007 film. Check out the full, unedited press conference here:
10.01.10 - Sorry, I've been too busy "poking" around on Facebook to update the news here. Just kidding, but I did just post my review of David Fincher's The Social Network! Read it and click the "like" button!
04.02.10 - Remember the Titans? Well they're back from the '80s, but now they're all computer generated and angsty! Check out my review of the remade Clash Of The Titans!
03.19.10 - New reviews! Jude Law and Forest Whitaker (Judest?) reclaim your organs in Repo Men, plus Jennifer Aniston and Gerard Butler (Jennard?) bicker a lot in The Bounty Hunter!
03.12.10 - Fresh off the digital presses! You can read my reviews of She's Out Of My League and Green Zone, and feel free to peruse my tribute to the late Corey Haim.
02.26.10 - The glossy remake of George A. Romero's low-budget infection fest The Crazies drops today. Is it any good? Read my review!
02.20.10 - My online review of Shutter Island is now available for general consumption - Sam
01.15.10 - Sam's list of The Top 10 Films of 2009 has been published. Check it out and get me some scalps while yer at it!
01.09.10 - Celebrate the New Year by remembering all the trashy cinema from 2009! My list of the "Worst Films of 2009" is up! Then focus on the positive side of life with my Top 10 Films of the Decade!
01.08.10 - When the Dogs aren't out solving crimes and rescuing cats from trees, they also find time to act as Culture Correspondents for The Colin McEnroe Show on WNPR! Listen to the podcast versions of their 9/4/09 appearance, 10/23/09 appearance, and 12/21/09 year-end wrap-up appearance! Many thanks to Colin, Chion and Patrick!
11.30.09 - Hope everyone had a satisfying holiday and rewatched the trailer for Eli Roth's Thanksgiving to celebrate. If you're up for more celebratory revelry, pop on by archive.org to listen to Sam and Kevin's running audio commentary for the film Fight Club, honoring that seminal film's recent ten year anniversary!
10.27.09 - Thinking about renting 28 Days Later or Twilight for the 8 zillionth time this Halloween? Then check out my lists of alternative Vampire Film and Zombie Film rental suggestions!
And if you missed our appearance on The Colin McEnroe Show last Friday, stop by the WNPR page to take a listen to the podcast!
10.16.09 - Grounded again? Come escape your troubles with my review of The Eternal Sunshine Of The Monstrous Mind - er, I mean Where The Wild Things Are!
10.02.09 - Everything old is new again! My review of the Toy Story 3-D Double Feature is up!
10.02.09 - Zombies are people too! I guess they are what they eat... Check out my review of Zombieland!
09.25.09 - Check out my review of 30 Rock Season 3 on DVD!
09.12.09 - Celebrate as reality TV stars get disemboweled! My review of Sorority Row is up!
09.05.09 - Hope everyone's having a great holiday weekend! If you're bored hanging out with the family take a second to peep my review of Mike Judge's Extract! Or how's about popping over to WNPR to take a listen to the podcast of our appearance on the Colin McEnroe Show yesterday! Either way, your Saturday will be full of win!
08.30.09 - Read why Sam loves Quentin Tarantino's Inglourious Basterds!
08.28.09 - My review of Taking Woodstock is now up (but not high)!
08.21.09 - Please check out my review of the remade "Last House on the Left" on Unrated DVD!
And Inglorious Basterds rules!
08.20.09 - Sorry for the absence as of late - new computer = new issues and multiple electronic roadblocks! How's about some links to our online video segments from the past few months? Check these out!
June 14, 2009 (Taking of Pelham 123 / The Proposal / Imagine That / Fuel)
July 5, 2009 - The Half-Year special with Kevin and Sam's top ten lists of best films of the year so far!
July 12, 2009 - (Bruno / Ice Age 3 / Food Inc. + Q's belated top ten list!)
July 26, 2009 - (Orphan, The Ugly Truth, Hurt Locker, G-Force, Up in 3-D, Angel of Death, Global Metal)
Also, if you're of the Facebook-inclined ilk, please fan up for the C-Dogs here:
Also feel free to befriend my metal radio show on WWUH Tuesday nights from 12-3am!
06.28.09 - Transformers: Revenge of the Fallen review is up!
06.16.09 - Bang your heads while you scope out my review of the Iron Maiden: Flight 666 Best Buy Exclusive Blu-ray!
06.05.09 - Trip back to the 70s with me - my Land of the Lost review is posted!
Also swing by archive.org for video footage of last week's episode where we review Up, Drag Me To Hell, Cherry Blossoms and The Brothers Bloom!
05.21.09 - It's after midnight, so I'm letting it all hang out. And dropping my cybernetically-enhanced review of Terminator Salvation. Click on it if you want to live.
05.20.09 - A few updates, first of which being that a long cut of our 5/10 Star Trek round table discussion with guest Dog Chris Hart is available in audio form on archive.org. Visit here to hear part one (about the J.J. Abrams film) and here for part two (about the Trek franchise and other noteworthy Trekkian distractions)!
Video footage from Sunday's show is also up! Stop by here for this week's video and theatrical release news, and here for the boys' review of Angels and Demons, Fados, The Soloist and Sam's quick notes regarding Zodiac and Taken on Blu-ray!
05.08.09 - Thanks to all who listened and won last week, and came across unknown spatial distances to check out screenings of Star Trek.
In case you're wondering what I thought of the film, and can't wait for either my appearance on The Damon Scott Show today or this Sunday's Trek Roundtable on Culture Dogs, read my freshly beamed down review!
05.02.09 - The Star Trek ticket contest for today has ended, but you're still not necessarily out of the picture altogether. Listen to our show this Sunday night from 8 to 9pm (on 91.3 FM WWUH!) for more Trek information. Listen long and prosper!
05.01.09 - THIS CONTEST IS NOW OVER! You want to go see the Hartford premiere of Star Trek tomorrow morning (5/2) at 11am? You want to see it a week before its release so you can go "Nyah Nyah" to all of your pointy-eared friends? Then answer us these questions five and email 'em to culturedogs@yahoo.com for your chance to win a pair of admission tickets. And just cuz we know you're going to cheat by googling the Trek-centric questions, we're throwing in a few curveballs that you can find answers to on one of the culturedogs.org pages. Here goes:
1) Where did James T. Kirk grow up on Earth?
2) Who composed the original Star Trek TV show theme?
3) What film does Sam consider the best of all time?
4) Name one school Kevin O'Toole attended.
5) What is your favorite color?
Again, email your answers to culturedogs@yahoo.com, sharpen your ears for tomorrow morning and we'll email you back the pertinent details if you are a lucky winner! THIS CONTEST IS NOW OVER!
04.29.09 - Watch Sam's review of The Informers here!
04.28.09 - Video of our most recent DVD/Blu-ray and theatrical release news segments is available here!
And keep your thinking caps (and ears) sharpened! Very soon we will be presenting an online trivia contest that could win you a pair of tickets to see the Hartford premiere of J.J. Abrams' reboot of Star Trek! How cool is that?
04.22.09 - Happy Erff Day! Go plant a tree or somethin'! And as promised, here's the video of this week's Movie Reviews, including Crank: High Voltage, Sunshine Cleaning and Erff. I mean Earth.
04.21.09 - Video documentation of Sunday's news segments is up at the lurvely archive.org! Reviews to follow soon!
04.17.09 - Your prayers have been answered! Video footage of last week's reviews is up here!
04.07.09 - The video of Sunday's program is now up! Visit here for the goods!
04.06.09 - A couple of goodies, first of which is the news that you can now watch video footage of our Sunday night program on the internet. Perhaps you were busy during the original radio broadcast, or more likely you simply need to see just how glamorous the inside of our air studio is (and how snazzily dressed we are!). Either way, stop by the old, forgotten podcasts page for up to date links. Last week's episode is already up and running here!
Also, clear your calendars for the evening of Tuesday, April 14th! I'll be presenting a 7:30 PM free screening of the documentary Heavy Metal In Baghdad at La Paloma Sabanera coffeehouse at 405 Capitol Avenue in Hartford. Part of the Kino Kafe film screening series, this doc portrays the unbelievable lives of Acrassicauda, a heavy metal band based in the heart of war-torn Iraq. See how frustratingly hard it is for these young music fans to simply rock out and have a good time - and strangely, how much more difficult and dangerous their lifestyle becomes once American forces bring "freedom" to their city. Forced to rock on the run, Acrassicauda are an inspirational force, and Heavy Metal in Baghdad is their fascinating story. I'm proud to be able to finally bring it to Hartford! Visit the official site here.
03.23.09 - I (Sam, that is) finally got around to recording my first DVD commentary track. I figured I'd start out being pretentious by discussing a classic black and white Italian film, so what better than to dissect Federico Fellini's 1960 feature La Dolce Vita? All you need to do is own, rent or borrow the film on DVD, and sync it up with my audio by either starting both media at their zero markers, or by using a specialized commentary sync program such as Sharecrow.
In any case, you can either download the full mp3 file of my audio, or simply visit the host page on archive.org and let the track rip at the same time you start your DVD. So enjoy, and try to tune out my excessive usage of the erudite terminology "Uhhhhhhhh...."!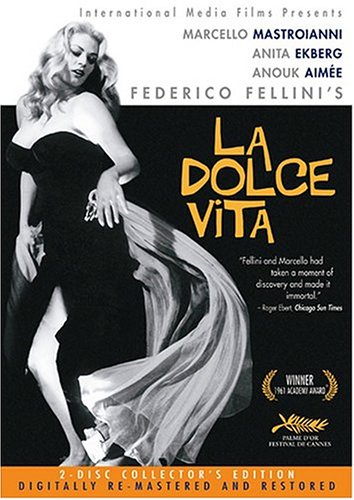 3.10.09 - To celebrate the DVD release of Role Models, I finally uploaded an audio interview I did with stunt choreographer and martial artist Jeff Imada (The Crow / The Bourne Ultimatum / just about every action movie ever made) last year when the film was still being called Little Big Man.
And if you haven't seen the waxing of the century yet, do stop by 96.5 TIC and watch Damon Scott reap the rewards of losing our Oscar bet - that's right, a full smiley-face chest waxing courtesy of the generous, gracious and abnormally sadistic people at Salon Zoe in Manchester. Squeal with glee as Damon screams in pain!
2.22.09 - Just got back from the 2K9 CARC Oscar party/fundraiser/hootenanny at Dish, and had a blast eating great food whilst getting so many nomination predictions correct! If you haven't already, you can still drop by our official 2009 Oscar Predictions page and see who reigns supreme as this year's CinePrognosticator! No, I said prog-nos-tic-ator, not... well, just get your mind out of the gutter!
2.20.09 - Newly posted! Kevin and Sam's official predictions for Sunday's Oscar winners! Download your own ballot from Oscar.com and go head to head with the boys!
2.9.09 - Still steaming that Slumdog Millionaire won best production design over The Dark Knight during last night's BAFTA awards ceremony? Well, never again shall you let those obnoxious "other people" ruin your cinematic awards season! For it is time yet again for the fabulous WWUHFFIES - the WWUH Film awards - celebrating all that was delicious and dire in Hartford area theaters during 2008.
You can download the Official WWUHFFIES Ballot here, but do not despair when you see all of our nominees listed, for you - yes, YOU! - have the power to overrule any choice and write in your own on the conveniently supplied blank lines. You can print it out or manhandle it in the digital domain, but either way be sure to snail or e-mail your picks back to us by March 29th. And be doubly sure to tune in to the official on-air awards special on Sunday, April 5th!
Also check back shortly when I will have the full interview with Kevin Smith available for your online aural enjoyment!
2.1.09 - Screw that stupid game! Whatcha gotta do tonight is tune into Culture Dogs for a new half-hour interview with writer/director Kevin Smith! Also, I finally updated and cleaned up our Links page and also posted our Top 20 Lists of 2008, so feel free to peruse those sections in the meantime. Snoogans!
Addendum: Tonight's Kevin Smith interview will actually be split in half to make way for the announcement of this year's nominees for the WWUHFFIES! So tune into the first 17 minutes of Lunchbox tonight, and come back again next week for the rousing 13 minute Tons 'O Fun finale!
12.23.08 - Happy Chrismahanukwanzaakkah to everyone! If you're feeling up for a little laughter at my expense, please do stop on by Ye Ole YouTube to see my short comedy movie "Feel My Rock!" It's about a guy who becomes a little too obsessed with the game Rock Band and starts confusing his virtual fans with the real deal. The rock lives on!
08.08.08 - Make sure to tune in this Sunday night for your chance to win passes to a screening of the new Ben Stiller / Jack Black / Robert Downey Jr. comedy Tropic Thunder!
Also many thanks to our compadre Damon Scott for spreading our insanity to his radio program on 96.5 TIC FM. Listen to The Damon Scott Show on Tuesdays to hear us drop news and reviews of that day's video releases, and on Fridays for the straight poop on the weekend's newest theatrical releases!
05.03.08 - Finally got around to adding a few more reviews. Still more to come, but stop by my 2008 Reviews page in the meantime!
03.02.08 - Just slam-dunked a review of Semi-Pro. Be careful around all the shattered glass...
2.25.08 - Just posted some late reviews of In Bruges and Definitely, Maybe. You should absolutely, possibly check them out while you're practicing your Flemish dialect!
2.22.08 - Before I get started, swing on in to the Reviews section to read my take on Charlie Bartlett.
Well, it certainly has been an interesting week on the video front. As a longtime home theater enthusiast (stop here for my essay about my love for Laserdiscs), I've been keeping an eye on the next-generation High Definition optical disc format war for some time. Just this past December I made the jump into the realm of Sony's Blu-ray Disc technology (it came with the PS3, plus Sony has the rights to the Bond series - so a no brainer there!).
It is indeed much better than DVD, and better even than the compressed Hi Def channels from your local cable or satellite service. Warner's Blade Runner 5 disc set among other stellar releases give the viewer a truly theatrical home experience. It's pretty amazing that home video has gotten this good, and that people like myself can actually afford it!
Speaking of Warner, they were previously format-neutral, but delivered a crippling blow to Toshiba's HD-DVD camp by going Blu-exclusive recently. This left Universal and Paramount/Dreamworks as the only remaining major studios in support of Sony's enemy. While most of us thought this would be one of the final volleys that would eventually destroy the other product, I never thought that the retailers would be as aggressive in making a stand.
But in the past few weeks Best Buy, Wal-Mart and online rental facility Netflix all came out with Blu capes on, proving that even with its minimal studio support, HD-DVD could no longer carry on if there was nobody selling it. So just this week Toshiba made their final announcement, bowing out of the next generation video market. Shortly thereafter, Universal jumped into the Blu-boat, and now the consumer can finally buy Hi Def discs without worry.
Not that everything is perfect however - naysayers (and the media) are in love with pointing out that digital downloads are the way of the future (key word - future!), and that there's no reason to invest in optical discs while standard definition DVD is good enough already. Downloading and/or streaming may eventually replace the rental market, but there's no way the film lovers among us will abandon the capacity to own and view their favorite films whenever they want. Just think of the massive amount of titles that regularly go out of print on home video - at least you can still buy them used. If you're counting on a massive digital server to supply you with films, you're going to be screwed when your favorite disappears off of the list.
Other people say that we should just place our entire collections onto multi-terabyte hard drives (and smile gladly when they crash and erase our entire library!), but I can't really buy into all of this overhyped convergence nonsense. Right now there's an awesome Hi-Def disc format that I can purchase and own, not to mention that import-crazy minded film nuts like myself can enjoy the fact that Blu-ray's regional coding system is far more friendly than that of DVD. And while plenty of people don't care about extras, there are a number of films in my collection (the Lord of the Rings 4-disc sets, the Alien Quadrilogy etc.) that sport amazing extra features that probably wouldn't see the light of day in an On-Demand market.
So I can officially care less about the 'future of downloading'. The future is here already in my living room, and I don't look forward to the day when digital convenience destroys the quality of my home theater experience like it's doing to high end audio. Others are grumbling over the fact that the Blu-ray format is still in flux, and that when version 2.0 arrives (which includes internet capability), many of the current players (sans the wi-fi enabled PS3) won't be able to upgrade. I could be wrong, but I don't think that future Blu-ray discs won't play in these older units, but that certain features will not be available to the early adopters.
And people forget that DVD itself was a snaky, ever-changing beast itself when it first arrived. How many people had audio lip sync issues and were told that it was the fault of their player, not of the software. When seamless video branching first arrived, numerous players couldn't perform that function, and therefore couldn't play the film without glitching. Many DVD players were also routinely offering firmware upgrades, so this whole issue regarding evolving Blu-ray stats isn't exactly shaking my foundations.
Don't get me wrong, I'm not some Blu-blood Sony fanatic or anything (but this sure must feel good for them - finally ridding their mouths of the taste of bitter defeat at the hands of VHS back in the day!), and experienced the amazing looking Bourne Ultimatum HD-DVD on my system not too long ago. I'm just excited that the war is over, and perhaps the deep discounts on software titles will ensue!
This past weekend, I had the opportunity to check out Walt Disney Studios and Panasonic's touring Blu-ray eduction demo, called the Magical Blu-ray Disc Tour. Having the Big Mouse on your side is definitely a plus on the video front, because kids are going to want what they have - and the adults are going to want Hi-Def versions of every Pixar film! The demonstration was in town at the Westfarms Mall for a few days, and sported a couple of walls adorned with numerous flat screen displays and various Blu-ray playback devices. There was also a special presentation wherein a representative interacted with the audience while showing clips of Disney vids on a 7.1 surround sound system.
Unfortunately, Mall dynamics prevailed, and the loudly driven Muzak emanating from the ceiling made the listening experience less than perfect, but it certainly enabled people to get the point. The demo walls were set up with interactive games, such as the cooking game from the Ratatouille disc (a must have!), and Liar's Dice from Pirates of the Caribbean: Dead Man's Chest. While these are fun enough, interactive games were present on DVD as well, so I don't think they give a definitive feel for the superiority of next-generation software.
It also would have been nice to see more actual video footage, for I think checking out Disney's Ratatouille Blu-ray in person would prove to be highly persuasive. Likewise, it would have been great to see a looping demo of the difference between HD and SD DVD releases. Still, for the casual consumer wondering what all the fuss is about, it certainly serves its purpose and allows people to get up close and personal with the hardware. For the uber-nerds out there already steeped in knowledge about 1080p, HDMI and format 1.1's PIP capabilities, you're probably not going to learn much you don't know already. You might have fun, though.
Another plus at the Westfarms exhibit was that the informative Blu-ray magazines they were handing out contained coupons for discs at FYE. On the minus side, that chain tends to be wildly expensive, so if someone were jazzed up enough to run right up to check out the discs, they might be dissuaded by the seemingly outrageous cost. (Which need not be so - Amazon has some amazing deals regularly, and some of the discs I've purchased locally have been as cheap as if not cheaper than their standard def DVD counterparts!). On the plus side, the coupon did not exclude used discs, so I managed to pick up a pair of new releases cheap.
There was also a kiosk where you could sign up to win a Blu-ray player and a Panasonic Plasma TV. If this exhibit hits your town soon, definitely check it out! Here are some photos I snapped at the event - I apologize ahead of time for the lousy camera I was using, since it tends to blur easily.
Many thanks to everyone who took time to show me around the place and answer questions - I had a great time!
2.12.08 - The strike is over, so get writing! Download your 2008 WWUHFFIES ballot today and tell us what ruled Hartford in '07!
1.25.08 - You can't catch me - I'm Untraceable! I also posted my late review of There Will Be Ham, I mean There Will Be Blood. Read it or I just might drink your MILKSHAKE!
1.24.08 - I finally got around to posting my review of Cloverfield, so do dig in! Stay tuned for reviews of There Will Be Blood and Untraceable!
1.22.08 - Just got the horrible news that Heath Ledger passed away. I had obviously been excited about a followup to Batman Begins, but when I heard he was cast as The Joker I turned into a rabid fanboy. Having seen him completely melt into his character Skip in Lords of Dogtown, I just knew that he had a supreme talent that was going to see him evolve into a 'legacy' actor sooner or later.
I always thought Jack Nicholson was all wrong for The Joker in the 1989 Batman, and I felt that finally Heath was going to really get to the core of the character and surprise a hell of alot of people. Granted he still will, but now the film will have that creepy aura about it much like 1994's The Crow did following the untimely death of Brandon Lee. It's awful to hear of anyone going at such an early age, and especially so knowing what kind of work he had still yet to deliver.
I don't drink, but this swig of soda's for you, Heath - Cheers, Mate!
1.2.08 - Happy New Year! Let us fondly remember the year that was 2007 with Sam and Kevin's Top Twenty Films of '07 lists!
12.21.07 - The barber is in the house! Pull your turtlenecks up high and take a peek at my review of Tim Burton's Sweeney Todd!
12.20.07 - Time to play review catch-up! I'm throwing down on The Golden Compass, I Am Legend, Walk Hard and National Treasure: Book of Secrets. Take a deep breath and dive in!
12.11.07 - Bourne's back and he's on DVD! Take a peek at my review of the new special edition in stores today!
12.06.07 - Sorry, I was sick for a bit, but I finally posted my reviews for Enchanted and No Country For Old Men! On a side note, how freakin' awesome is it that Chris Cornell's Casino Royale titles song "You Know My Name" got nominated for a Grammy? That almost makes up for the fact that the Academy screwed the pooch by omitting it as a choice for this year's Oscars, while nominating three damned songs from Dreamgirls! Three? C'mon! Good luck, Chris - hopefully they will know your name come the evening of the awards ceremony.
11.22.07 - Happy Thanksgiving, or as is the more historically correct way of saying it - Happy Thankstaking! Either way, I give to you my review of Stephen King's The Mist. Just remember to tie a cord around your waist. It won't stop the creepy crawly monsters from snacking on your body - but it just might hold your pants up once your belt flies off following too much turkey eating!
11.16.07 - Timeless poetry meets timely special effects - do the CG actors of Beowulf convince, or just sit there and look creepy? Find out in my review!
11.15.07 - It's Santa Claus versus Tom Cruise's hypnotic teeth! My reviews of Lions For Lambs and Fred Claus are up!
11.3.07 - Misfits, their problems, and the healing path. Three films with very similar cores are Lars and The Real Girl, Dan in Real Life and Martian Child. Read all three reviews or prepare to be disintegrated!
10.31.07 - Happy Halloween and excuse me for my lack of internet capabilities as of late - wind and exploding transformers fried my modem but good. But just in time for some Samhain spookiness is my review of the very good 30 Days of Night! More backlogged reviews to come by the end of the week!
10.17.07 - Sorry for the lateness of these reviews, but I've been busy planning the supercool 2nd Annual Hartford International Film Festival! So oldest to newest, here are my reviews for Good Luck Chuck, Elizabeth: The Golden Age and Lust, Caution!
10.01.07 - Sadly, actress Lois Maxwell (Miss Moneypenny in 14 James Bond films) passed away over the weekend. To learn more about the great 007 films in which she played the ever-yearning secretary to Bond's boss M, visit my newly minted list of Favorite Bond Films, rated from best to worst. We'll miss you, Lois!
09.28.07 - Drop out of society for a while and read my review of Into The Wild. I also finally got over my traumatic childhood (which was about two weeks ago) and popped out a review of Mr. Woodcock.
09.26.07 - Again with all the violence! Just posted my reviews of Eastern Promises and The Kingdom, plus I forgot to mention my relatively recent review of The Brave One. Hold your fire long enough to read 'em all!
09.12.07 - Boys and their guns... won't they ever learn to play nice? Get my reviews of Shoot 'Em Up and 3:10 To Yuma before they bleed to death!
09.04.07 - Thanks to everyone for coming out to the Shoot 'Em Up screening tonight! We had a blast!
08.31.07 - What's scarier - Christopher Walken or a psychopathic killer wearing a William Shatner mask? Probably Chris Walken wearing a Shatner mask. Either way, my reviews are up for Balls of Fury and Halloween. And remember to listen Sunday night for your chance to win passes to see a preview of Shoot 'Em Up!
08.28.07 - Thanks to our listeners who came out for the Balls of Fury screening last night! My review will be posted here this week. Be sure to tune in this Sunday night for a chance to win passes to an advanced local area screening of Shoot 'Em Up! Actual firearms are prohibited from the theater, mind you...
08.25.07 - Tune in this Sunday night for your chance to win passes to local area screenings of the ping-pong comedy Balls of Fire and the over-the-top gun-crazy action of Shoot 'Em Up!
08.19.07 - You know, the funny thing about my back is that it's located on... never mind, just check out my reviews of the exquisitely hilarious Superbad and the gleefully grim Death At A Funeral!
08.10.07 - Jackie Chan fights Neil Gaiman! My reviews for Rush Hour 3 and Stardust are up!
08.04.07 - Baby, I was born to review Bourne! Check out my thoughts on The Bourne Ultimatum if you dare! And if you listen to the show this Sunday night, you might find your chance to win another spectacular prize! Or not! But listen either way!
07.31.07 - Not to break 'streetdate' or anything, but Bourne was freakin' awesome! Special thanks to Special Agent Listener Josh for supporting the show and coming out to catch the flick!
07.26.07 - Be sure to listen to the show this Sunday night (7/29) for your chance to win passes to advance Hartford area screenings of Arctic Tale, The Bourne Ultimatum and Talk To Me!
07.24.07 - A wee bit overdue, but my Live Free Or Die Hard review is finally up. Yabba Dabba Doo, Mutha Trucka!
07.21.07 - Put on your shades and SPF 2000 lotion - it's time for a review of Danny Boyle's Sunshine!
07.12.07 - Grab yer Nimbus and hold on! My review of the new Potter film is in!
07.04.07 - Happy Jeff-Goldblum-And-Will-Smith-Versus-Aliens-With-Crappy-Firewalls Day! Stop by here to read the half-year top ten lists we unveiled on last week's show!
06.29.07 - Samimus Prime commands you to stop macking on the hood of that robot Camaro and read his review of Transformers! You can also get a primer on Samimus' experiences with the Transformers oeuvre here!
06.22.07 - Pull down your pants and cough. My SiCKO review is up.
06.16.07 - Kick that penguin off your board and paddle out for my Rise of the Silver Surfer review! Stupid penguins!
06.13.07 - Grab your bandsaws and rusty scythes! Lionsgate wasn't screening this one for critics, but somehow we managed to see Hostel: Part II! Actually, we just paid money to see it, and perhaps you should too!
06.11.07 - New review up of Ocean's Thirteen. Put on your Brody and Gilroy and hope for a Susan B. Anthony after the Allen Irwin and Greco-Roman showdown. Nevermind...
06.08.07 - Before you kickstart the weekend be sure to stop by the reviews section for my take on those cuddly penguins in Surf's Up! I wonder if someone could do a mash-up of Surf's Up and Knocked Up?
06.03.07 - MTV Movie Awards? Who cares about those? Listen to Culture Dogs tonight! You can also peruse my poppin' fresh review of Knocked Up!
05.29.07 - Just posted some written reviews of the new Pirates, Shrek the Third, and finally my thoughts on 28 Weeks Later.
05.15.07 - Many thanks to Colin McEnroe for inviting us to visit his Afternoon Drive program on WTIC 1080 this past Friday. It was a blast yapping about Fred Thompson, stainless steel tweezers and Tony Blair's connection to the film American Psycho. Visit this page for all of the fun in four lovely podcast installments!
5.05.07 - My Spider-Man 3 review is up. Did Sam Raimi hit it out of the park again or drop the ball? Read on, true believers!
4.10.07 - I'll be posting the winners of the WWUHFFIES soon, but in the meantime you can read my Grindhouse review!
3.30.07 - WWUHFFIES voting is over! Tune in Sunday, April 1st at 8:00 PM Eastern Time for the results, and maybe a segment about our favorite unknown film director, Toby Valk! In honor of known film directors Rodriguez and Tarantino, I've also posted an 'alternative top ten list' of my favorite Grindhouse features from the 70s. I also forgot to post about my 300 review being up, but better late than never. Guess what? My 300 review is up!
3.3.07 - My Zodiac review is up as well. Vive Le Fincher!
3.2.07 - Oh, yeah! Why don't you go ahead and vote for your favorite 2006 films and participate in this year's WWUHFFIES! That's the WWUH Film Awards for the uninitiated. Good. Bad. Under or Overlooked. It's all in there. If you feel any given film is missing from a category - write it in yourself! Then mail it back to us so we can unveil the winners on air. You can download a word version, a word pamphlet to distribute to friends, or a powerpoint version as well!
3.2.07 - I've finally put one of the last few nails in the coffin of a project I've been working on for quite some time - my semi-embarassing list of 'The Best Films Of All Time', as I saw them as of 1990. I happened to find a list I had made while cleaning up the house, and thought it would be fun to revisit the world of the eighteen year old Sam. Was I young and stupid or merely honest? You decide! Check it out the list here. Click on the links for further illumination.
1.26.07 - Now that I've been doing this here web-thing for a few years, I figured I'd finally dump the old stuff in a better place. So feel free to click the link above to check out the smelly, superannuated news. I also fixed a few typos on some of the newer content, so save your emails, you minutiae-obsessed kids you!
And just a quick thought on the recent news in Lost-dom, mainly that ABC and the show's creators have been in talks to end the show. Unfortunately, some press coverage of this item led me to believe that the show was being canned early due to slipping ratings. (Luckily, no matter how late in the game the need for an ending may come, the writers have prepared for a such an event. All they have to do is shatter the emergency glass that houses Joop, the simian that will then read the final plot of the series to us a la Masterpiece Theater.) This news left me reeling from the notion that I would never get to see the promised Season Seven, also dubbed 'The Zombie Season'. JK, BTW.
I'm much happier now that I've heard the real news - that the end of the show may still be a few seasons away, and that the creative types are merely choosing a solid end-date now to avoid the curse of The X-Files, which went on way too long. This is awesome news, since most shows can't escape that period where they're simply beating a dead horse and wasting everyone's time. The Prisoner remains the ballsiest TV show of all time, since its creator decided to end the show before it even reached twenty episodes, no matter how it fared in the ratings. So kudos to Damon Lindelof and Carlton Cuse for reaffirming the notion of an 'overall big picture' and giving us fans something to look forward to (albeit in a bittersweet fashion).
By the way, stop reading this and get out there to see Pan's Labyrinth and Children of Men!
1.25.07 - Click here to read my pre-ramble to the official Casino Royale review, in which I examine my feelings about the new changes made to the 007 franchise. And just to create the perfect Bond trifecta, I will soon post my personalized list of the Bond films in order of quality (you know it's gotta be better than that POS one EW put out a while ago!). Just to get you jazzed up enough to preorder Casino Royale on DVD or Pu-Ray this March!
1.19.07 - Click here to see the print version of our Best Films of the Year lists! I (Sam) have also written small essays to accompany each selection, so have fun browsing. Soon to come will be our 'Worst Of' lists and the audio podcast of our critical gathering. Enjoy!
1.13.07 - Welcome to the new year, and much apologies for slacking on the podcasting front. Perhaps if I'd cut back on my intake of Casino Royale screenings I might get some more work done! That said, all of our old podcasts are still available for download or stream on archive.org! Just do an audio search for 'Culture Dogs' and get to listening. I will also be posting audio of our recent Best of 2006 Roundtable with guests John Boonstra and Helder Mira of TVs Minimum Wage. I will also be posting a written version complete with reviews and such on one of these here pages.
9.7.06 - More Podcasts to come shortly. And rest in piece, Steve Irwin - if there are any goanas in the afterlife, we know you'll be chasing 'em down!
6.27.06 - Finally put the finishing touches on almost two months' worth of podcasts! And thanks to everyone who came out for our screening of the Parkour-inspired action film Banlieue 13! It was a blast, and we gathered one of the biggest crowds to date for a Kino Kafe screening! Plus we got to meet some of the young athletes who are doing their best to bring Parkour and free running to Connecticut. You may have seen them in a feature in the Hartford Courant from a month back or so. Keep jamming, guys!
5.8.06 - Just updated another heaping pile of podcasting goodness - we're almost up to date, give a few weeks or so! I'm sure you've all heard the recent news that George Lucas has finally crumbled and announced the original cuts of the original Star Wars trilogy will be available for two months only starting this September! Just in time for the death of the standard definition DVD format! Start your petitions now for the films to be released on BluRay! You've gotta love the snarky comments on the press release mentioning how they still won't look as good as the 'special' editions. And not even a 5.1 surround track to be had! Just another reason for me to hang onto the Laserdisc versions with uncompressed PCM surround tracks. So Lucas still sucks yet is sorta cool in a way... If you think you can do better, then sign up for the 2006 LoResFest, a 24 film event happening May 20-21 at La Paloma Sabanera in Hartford. You'll have the chance to use a one-time use video camera to shoot a short film (whatever you want) that will be edited, scored and shown as part of a feature-length anthology the following weekend! Find out more here or here. And stop by tomorrow evening for a screening of the visual overload of Baraka!
3.28.06 - Okay, voting time for the 2006 WWUHFFIES is over! That said, if you really want to fill out a ballot and email it to us tout de suite we might be willing to add it to the tally. Listen for the official awards ceremony show to air at 8 PM on Sunday, April 9th. In other news, the podcasting page has been sloppily updated with a 2 part interview with Cinestudio's James Hanley and an after-the-fact Oscar picks special from late in February. The remainder of the March shows will be up soon (as soon as I can get my mitts on a copy of the 3/12/06 show) and the old pods page will be updated as well. On the video front, bravo to Universal for a very classy looking package for the new King Kong 2 disc special edition. And boo hiss to Universal for their cheesy new tiered pricing strategy where we get 2 disc editions for much more money because some guy in a suit decided that they're prestigious now. Extra boo hiss for doing this during standard def DVD's death throes when they should be cutting prices even more in the looming shadow of HiDef product. But bravo to Universal for including only the postproduction Peter Jackson diaries. If they had included the whole shebang I would have felt cheated for buying the cool production diaries set last December. And finally... Boo hiss to Universal to remaining tight lipped about the new cut of King Kong that will come out later this year a la New Line's multiple release strategy with The Lord of the Rings. When PJ was talking about saving the cool behind the scenes stuff for the DVD, he wasn't talking about the one we bought today. At least New Line was honest about their double dipping plans up front. And now I'm dizzy...
3.7.06 - So the Oscars were full of controversy and whatnot (and the films I wanted to win weren't even nominated in the first place), but I held a sweet-ass Oscar party and had a damned good time! Still, the Oscars pale in comparison to the Culture Dogs' very own film awards show, the publicly voted 2006 WWUHFFIES! We've chosen the categories and nominees, but you can vote for your favorites or write in nominees yourself if we missed them. Just be sure to download the important document here and return it to us (completed preferably) by March 26th! Email it back to culturedogs@yahoo.com or snail mail it to: WWUH Radio, University of Hartford, 200 Bloomfield Avenue, West Hartford CT 06117. In other news, I have added more content to the body of my Laserdisc essay over in Samland, and have also written a new addendum as well. Have fun!
2.16.06 - Many thanks to Mark and Kevin L. for putting something on the air during last weekend's uber-storm. We promise to be manly and tough enough to trek outside and record a 'fresh' (thanks WB) episode this upcoming Sunday. In the meantime, entertain yourselves with the review segments of the January 29th and February 5th episodes, now finally up on the podcast page. I'm off to do some luging...
1.23.06 - Go see Hostel. Now! Okay, you're back. Now go see Hostel again. If there's time between screenings feel free to drop by our newly constructed podcast archives page to listen to any old pieces that you may have missed. Many thanks to the folks at archive.org for creating such an amazing internet library and giving us the space to bring you our old shows. Now run along and go see Hostel! Or if you're in the Hartford area tomorrow night January 24th, come watch a Kino Kafe screening of the French actioner Yamakasi at La Paloma Sabanera. Then go see the late show of Hostel.
1.11.06 - Happy New Year you crazy pop culture junkies you! You may have noticed that there were a few weeks sans an updated podcast due to the holiday season. Here's the part where I apologize for the delay and all that jazz, but the fact is -- I ain't sorry, Bub! If Lost can go on hiatus for a month for no good reason (tonight's episode was awesome btw), then I can disappear for a few weeks of revelry and whatnot. Truth is, I got a sweet ass video projector which has sapped all of my motivation toward things non-projector related. But back to the podcast scenario, since our Christmas edition's news segment is by now stale, I uploaded the reviews only - followed by our New Year's celebration with the Minimum Wage fellers to discuss the best and worst films of 2005. (Sorry for the audio quality - it's the best we could do with our little porta-corder). And we round things out with this past Sunday's batch of news and reviews, plus an extended version of our interview with Cinestudio's James Hanley. I'm off to do important things now. I'm lying.... It's projector time baby!
12.14.05 - It's official. King Kong rules. Peter Jackson is God. Happy Holidays.
11.21.05 - We enter the 21st century at last! Yes, we have finally delved into the sordid world of Podcasting! I think I have correctly penned some XML coding and you should now be able to download our weekly shows through this page. If you experience any problems please email me ( Webmaster Sammy Fresh) as soon as humanly possible. For now I'm splitting each show into two parts - one for news and the other for reviews/interviews. If all goes well each week I will have the new show available here by Monday or Tuesday. In other news, go see Harry Potter again!
11.4.05 - Still alive. We had a bit of a server problem, but it all seems sorted out at the moment, so we once again bring you the updated film calendar as found above. I've also taken it upon myself to finally draft up a few written reviews on the page where such things belong. The films are a little old now, but what can you do when the Master Control Program won't let you update your own page? On a side note, thanks to all who came out to our screening of Coffin Joe in At Midnight I'll Take Your Soul at La Paloma last week. I had a heretical good time.
7.22.05 - It's finally here. The transcribed interview with Shane Carruth is now available on the interviews page. If you loved his film Primer like we did then we suggest you hop on over there for a good read. Even if you haven't seen the film but are interested in independent cinema... well, we still suggest you check it out. No major spoilers, we promise. Also, be sure to tune in this Sunday night July 24th for an interview with Mark Zupan, official spokesman of the USA Paralympic Quad Rugby team and star of the great new documentary Murderball. Cheers!
7.11.05 - Okay, okay... I've been slacking. The Shane Carruth interview is almost done, but I've been dragging my heels on finishing up. Bad Sammy. The promised Star Wars essays are also gestating in a primordial ooze somewhere on a laptop. Bad day job. But the good news is our friends who run the annual ConnectiCon anime/gaming convention have an updated website that you can check out while I put the finishing touches on a few things over here. The convention starts this Friday the 15th and goes straight on through the weekend until Sunday evening at six o'clock. If you enjoy gaming, anime, Harry Potter or the sport of curling, then dress up like Sephiroth and head on down to that newfangled convention center down in ye olde towne of Hartford and have a good time. But if there's no curling competition there, don't blame me...
5.16.05 - As you've probably noticed by now, the new computers at WWUH have been sorted out and Kevin once again has access to the movie news section above. He toileth away for many an hour to bring thee the best in local cinema knowledge, so do check out his listings. Two such listings will surely be a pair of Kino Kafe screenings this week at La Paloma Sabanera, including a C-Dog curated Stephen Chow double whammy - starting with Shaolin Soccer on Wednesday night at 7:30 and finishing with a little kung fu and a whole lot of hustling on Thursday May 19th at the same time. That is, if you're not busy watching that 800 pound digital gorilla down the street. But wait until Friday or Saturday for Star Wars, and join us for some maginificent comedic action films instead. If you still need your Star Wars itch scratched after that, then stop back here towards the end of the week when Kevin and I will both have posted essays detailing our early experiences with the series and how it has impacted our nerdy little lives. Also be on the lookout for a transcript of our interview with Primer director Shane Carruth, coming to the interviews page very, very soon. I'm off to bullseye some womp rats in my T-16, so tell Biggs and the Fixer that Wormy says hello.
4.23.05 - Not much in the way of news lately, but I wanted to let everyone know that they should run right out and check out the DVD of Primer. Though relatively light on extras (there are no deleted scenes because every scene was shot in one take, and basically everything that was shot was used in the final cut), the commentary track with director Shane Carruth is an insightful, inspiring listen. It'll make you believe that you can film a sci-fi masterpiece with only $7,000.
4.3.05 - Finally, there's more content on the interviews page! Check out our 2004 conversation with indie filmmaker Kevin Smith. And don't forget to come see El Mariachi on Tuesday night!
3.28.05 - Time's up for voting on the 2005 WWUHFFIES, but be sure to tune in this Sunday night at eight for the official awards ceremony! We may even have a surprise guest or two. Or none. But be sure to listen, or you'll never find out which Ben Affleck film stunk the least last year. Speaking of Affleck, he was in Armageddon with Steve Buscemi, who was in Desperado which was directed by Robert Rodriguez. Which leads me to this sentence where I announce a special Kino Kafe screening of Robert Rodriguez' film El Mariachi at La Paloma Sabanera on Tuesday April 5th. If you enjoyed Sin City and want to see where Double R's talent originated, then stop on by and see what immense amounts of ambition coupled with $7,000 worth of human guinea pig reimbursement can accomplish. And on a side-side note - Queens of the Stone Age rocked at the Webster Saturday night, which technically makes them Jesus' opening band. Sweet!
3.14.05 - Clear your schedules next Tuesday evening, people! The Culture Dogs will be curating another Kino Kafe screening at La Paloma Sabanera on March 22. In honor of the 400th anniversary of Don Quixote, we'll be showing Keith Fulton and Louis Pepe's Lost in La Mancha. It's a brilliant behind the scenes documentary of Terry Gilliam's ill-fated film The Man Who Killed Don Quixote, starring Johnny Depp and Jean Rochefort. What began as an eventual DVD supplement (a la Fulton and Pepe's expose on Twelve Monkeys, entitled 'The Hamster Factor') quickly evolved into an amazing portrait of Murphy's Law in full effect. Fans of Gilliam and film in general will find much to enjoy. Come have some coffee and revel in the chaos!
3.1.05 - Sam Club finally has content! Stop by and read my meandering tales about the days of home theater past.
2.28.05 - The Culture Dogs themselves will be curating a surprise screening of the documentary 'Breakfast with Hunter' in honor of the late, great and irate Hunter S. Thompson. It will be part of the Kino Kafe series and will be shown at La Paloma Sabanera in Hartford on Thursday night, March 3rd. Click on the link for more information and driving directions. Oh, yeah... How about them Oscars last night? I was glad that Eternal Sunshine of the Spotless Mind won best picture. Sorry, I was daydreaming again. Still, best original screenplay isn't so bad.
2.23.05 - Two things of import today, one being that gonzo journalist Hunter S. Thompson has left all us swine behind this week, and we shall miss his brilliance and madness dearly. So everybody, raise your vials of pineal gland extract in honor of the Duke. The other item I must mention is that this Sunday (yes, Oscar night) marks the start of the 2005 WWUH 'Marathon' fundraiser, where we count on the support of our loyal listeners to help keep shows like ours on the air. And shows unlike ours as well. Take a look at the WWUH homepage and check out some of the station's excellent programming. You can also download an online pledge form that you can fill out at your leisure and mail back to us. On the website tip, Kevin's page has some content up now - and our reviews and archives pages look a little prettier as well. But surf carefully, for this is bat country my friend...
2.16.05 - Hear ye, hear ye! Tired of having other people in another part of the country tell you what the best films of 2004 were? Don't stand for it! Let us tell you what the best films were! Or don't! Be rebellious and write/type your own answers in! Either way, get yer official 2005 WWUHFFIES ballot here. Save it as a word document or such, fill in your answers and email it back to us at culturedogs@yahoo.com. Or if you'd rather not bother with all that cutting and pasting, feel free to email us a request and we'll send you back the proper goods. Have fun!
2.13.05 - Well, we're much closer to the finalized look. Kevin's weekly listing of films playing in the Hartford area is available through the above link. The archives and review pages are in their primitive stages, but up at least. And the links page is now going as well. Have fun surfing and look for more interviews and reviews very soon, as well as an online ballot for the 2005 WWUH film awards -- the WWUHFFIES!
12.10.04 - The interview page is off to a slow start, but you can now read a transcript of the very first Culture Dogs interview. It's from August of 2002, with director Miguel Arteta discussing his film The Good Girl.
11.12.04 – The site is up and running again, this time on the WWUH server and with a bit of a facelift. Some pages have more material than others, but rest assured that plenty of content is coming in the near future - hopefully including a special section devoted to our visit to the Cinestudio projection booth from last year. Have fun!