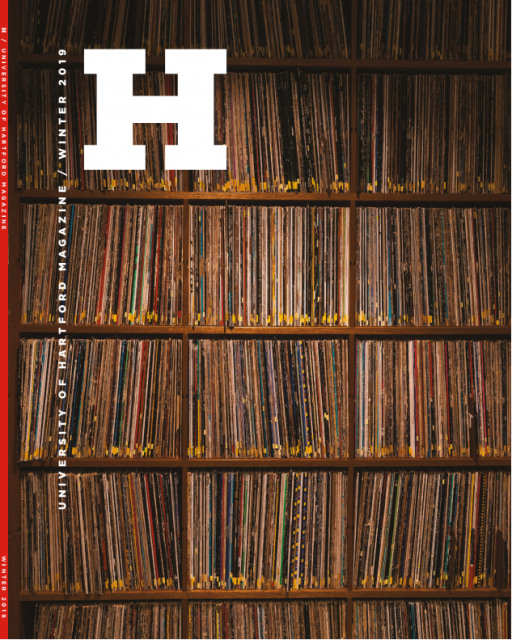 When the University of Hartford was incorporated just over 50 years ago by business and community leaders, they envisioned a center of education and culture for Greater Hartford. Read more...
Persons with disabilities who wish to access the WWUH Public File may contact John Ramsey at: ramsey@hartford.edu
Sunday Afternoon at the Opera - Dvor√°k: Stabat Mater; Fairouz: Poems and Prayers
Sunday Afternoon at the Opera host Keith Brown writes:
The Dvorák Stabat Mater (1877) is a Lenten perennial. I have presented it at least half a dozen times going at least as far back as 1991 in various recordings. Although it is scored for full orchestra with chorus and vocal soloists, there is a Naïve CD recording making use of the 1876 piano score which I aired on Sunday, March 29, 2009. This choral work established Antonin Dvorák's international reputation.
"Stabat Mater" are the first two words of a medieval Latin devotional poem relating the emotional suffering of the Virgin Mary as she beholds the crucifixion of her Son. In the history of Western art music many other composers have been drawn to it. In terms of length in performance Dvorák's is the longest musical treatment. Affecting in its simplicity, sincerity and heartfelt compassion, the Dvorák Stabat Mater is one of his most beautiful creations.
Listen today for a historic recording of Dvorák's Opus 58, taped in monaural sound in 1953 by RIAS Radio Berlin in the Christuskirche. The Hungarian conductor Ferenc Fricsay conducts the RIAS Symphony Orchestra and Chamber Chorus, augmented by the Choir of St. Hedwig's Cathedral of Berlin. There are four vocal soloists. The Swiss Relief label specializes in CD reissues of vintage recordings of European radio broadcasts. This Relief reissue dates from 2009.
Our programming for Lent now reaches out beyond institutional Christianity and Judaism to embrace, as Beethoven did, the teeming millions of the whole world. There are so many millions out there who are Muslim. New York City-based Mohammed Fairouz (b. 1985) gives us a rare work with universal appeal that has its roots in Islam. Poems and Prayers (2010) is actually Fairouz's Symphony No. 3. It partly uses the Beethoven Ninth as a model. This is a choral symphony in six movements that premiered triumphantly on the West Coast in December of 2013 in UCLA's Royce Hall, where it was recorded live in performance. Neal Stulberg conducted the UCLA Philharmonia, UCLA Chorale and University Chorus, with three vocal soloists.
Fairouz prepared his own libretto out of poems and prayers in Arabic and Hebrew. He sets a sacred text to music, the Oseh Shalom or Mourner's Kaddish from the Judaic tradition. The finale of the symphony is a setting of Israeli poet Yehudi Amichai's Seven Laments for the War Dead from 1976, the ''war" here being the long ongoing Arab/Israeli conflict and the Palestinian guerilla resistance fighting. "Night Fantasy" is a small section drawn from State of Siege, the Arabic poem by Mahmoud Darwish about the Israeli siege of Ramallah in 2002. All the poems in Fairouz's choral symphony serve as prayers for peace. The Fairouz Symphony No. 3 is indeed a "peace symphony," or in choral terms, a peace cantata of one full hour's length. By the impressive sound of it, it's the composer's sincere and passionate plea.
Poems and Prayers was released to the world on a single Sono Luminus compact disc, By the way, there is a Fourth Symphony by Fairouz, titled In the Shadow of No Towers (2012), inspired by the 9/11 disaster, and an oratorio Zabur (2015), both of these works out on CD courtesy of the Naxos record label.