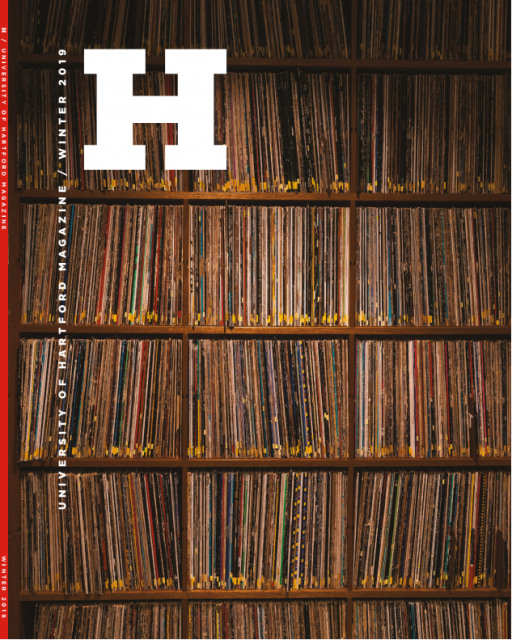 When the University of Hartford was incorporated just over 50 years ago by business and community leaders, they envisioned a center of education and culture for Greater Hartford. Read more...
Persons with disabilities who wish to access the WWUH Public File may contact John Ramsey at: ramsey@hartford.edu
Sunday Afternoon at the Opera - Graupner: Antiochus und Stratonica, Act Three; Schubert: Die Winterreise
Sunday Afternoon at the Opera host Keith Brown writes:
I have showcased recordings of the operas of the French baroque frequently of late, drawing upon the many recent CD releases of the works of Lully and his successors. This Sunday I turn to the lyric theater music of the German baroque. The most important opera house in Germany during that period was in Hamburg at the Gänsemarkt or "Goose Market." So many of the best German composers of the early eighteenth century wrote music for this theater: Keiser, Mattheson, et al. The young Handel got his start in opera at the Goose Market. Another young composer, a contemporary of Handel, Johann Christoph Graupner (1683-1760) got his start, like Handel, as a harpsichordist there circa 1707-09.
Graupner composed at least five operas for the Goose Market before moving on, also like Handel, to a career elsewhere. Graupner turned down the position of Kantor at Leipzig, a church job which eventually went to J. S. Bach, who was forbidden under contract to write opera. If Bach ever wrote opera, his operatic style might have sounded very much like Graupner's. Or you could say Graupner's style of baroque opera bears a resemblance to the church cantatas of Bach.
Successful on the stage at Hamburg was Graupner's Antiochus und Stratonica (1708?), a melancholy romance set in the ancient Alexandrine Near East around Damascus. The story centers upon a sickly young hero, prince Antiochus, who is beset by quack physicians. His only true cure is found in his love for his widowed father's new wife Stratonica. Opera-goers at the Goose Market were so enamoured of Italian operatic models they demanded some Italian language arias even in the midst of a German language libretto. They also expected some comic relief. There's a disaffected lowlife character named Negodorus (think Papageno) who provides his tongue-in-cheek commentary on the action.
It's a convoluted, difficult theatrical act to follow. The best case has been made for Antiochus und Stratonica by the singers and players of the Boston Early Music Festival, who staged it in 2009. BEMF recorded it in 2020, not in Boston but in Bremen in Germany for Radio Bremen in an unstaged broadcast studio performance. Stephen Stubbs and lutenist Paul O'Dette jointly directed the musical proceedings. The German CPO label released Antiochus und Stratonica on three compact discs.
Broadcasting Graupner's opera poses the same problem I encounter with the operas of Wagner. Antiochus und Stratonica is too long in airplay to fit into the alotted three-and-a-half-hour timeslot for one lyric theater program, so I am forced to spread the complete presentation over two consecutive Sundays.
Following the third and final act of Graupner's opera, keep listening for Franz Schubert's immortal song cycle, Die Winterreise (1827), in a recording which I last presented on Sunday, January 16, 2011. Like Die Schone Müllerin (1823), "Winter's Journey" is Schubert's setting of a collection of short lyric poems by his short-lived contemporary, the German poet Wilhelm Müller (1794-1827). Müller's little lyrical gems beg for musical treatment. Schubert's wonderful Lieder preserve this poet's otherwise obscure verse for posterity. Schubert put his very soul into these songs. Not long before his own untimely death at age thirty-one he sang the entire song cycle himself for a group of his close friends. He shocked them with the portrayal of the step-by-step collapse of the human personality, leading to hallucination, madness, and despair. The Winter Wanderer is left longing for the peace to be found only in the grave. Winterreise is one of the single most profound tragedies in Western musical art. Hear it again on this wintry Sunday afternoon in a 2010 Harmonia Mundi CD release, with tenor Werner Güra accompanied by Christoph Berner playing a nineteenth-century pianoforte.