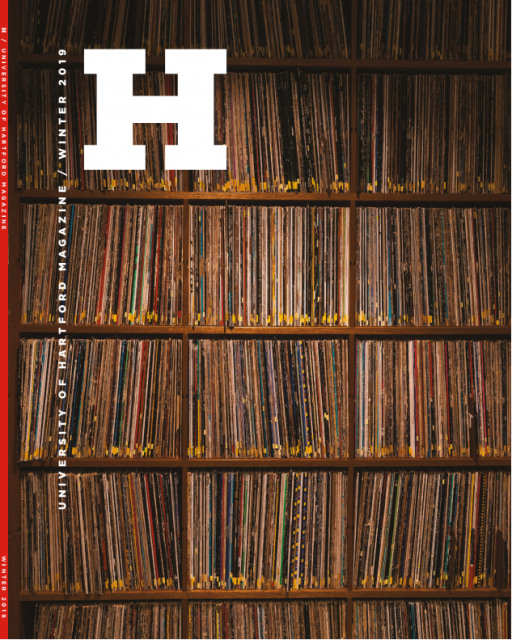 When the University of Hartford was incorporated just over 50 years ago by business and community leaders, they envisioned a center of education and culture for Greater Hartford. Read more...
Persons with disabilities who wish to access the WWUH Public File may contact John Ramsey at: ramsey@hartford.edu
CT Radio History Timeline 1970 - 1989
1971 WPLR 99.1 New Haven (formally WNLC-FM) becomes first progressive rock FM station in southern Connecticut.
1972 First cable television subscriber in Connecticut is hooked up, in Danbury.
1973 CRN, the Connecticut Radio Network, begins. 1974 WNHC 1340 New Haven begins morning all-news program, first in state. WTIC-TV channel 3 Hartford is sold to the Washington Post for $34 million and becomes WFSB-TV (named for Frederick S. Beebe, the Washington Post attorney who negotiated the sale with former owner Travelers Insurance).
1975 WPOP 1410 Hartford goes all news, the fist all news station in Connecticut.
1976 WJMJ 88.9 Hartford, is put on the air by the Roman Catholic Archdiocese of Hartford, one of the only diocese-owned stations in the station.
1978 WDJZ 1530 Bridgeport begins, with Music of Your Life format, which is created here by Al Ham; his is the first modern-day nostalgia music station. WOMN 1220 Hamden (now WQUN) starts new format as "Woman" with format devoted to women's features and news, and music that precludes songs with sexist lyrics. Connecticut Public Radio goes on the air after a channel (90.5) is found by CPTV's head Paul K. Taft. The station's call letters (WPBH) are subsequently changed to WPKT to honor Paul. Satellite stations WNPR 89.9 Norwich and WEDW-FM 88.5 Stamford are added later to the CPR chain.
1979 ESPN, the Entertainment, Sports and Programming Network begins, from facilities in Bristol. Howard Stern joins WCCC 1290 and WCCC-FM 106.9 as a local DJ, early in his career; later his national show will be carried on his old alma mater WCCC.
1980 Faith Middleton begins her popular talk show on Connecticut Public Radio, a show which continues to this day.
1982 Satellite News Channel, all news Cable TV channel operated by ABC and Westinghouse, opens in Stratford. In 1983 it is sold to Ted Turner who folds it, merging it into Cable News Network, CNN. WATR-TV channel 20 Waterbury is sold and becomes WTXX channel 20. major independent statewide TV station. Keith Brown begins weekly Gay Spirit show on WWUH 91.3 West Hartford, oldest all gay show in Connecticut that continues to this day.
1983 WMNR 88.1 Monroe begins yearly broadcasting of Boston Symphony Orchestra Tanglewood concerts live, on Friday and Saturday evenings and Sunday afternoons, these broadcasts continue to this day. American Comedy Network, created by Dick Ferguson, providing comedy bits to hundreds of stations nationwide, begins in Bridgeport at WEZN 99.9. WEZN and New City group of radio stations create first in-house radio sales training division for the entire group of stations, headed by Steven Marx, with first national conference held the following years in Southbury.
1984 WTIC-TV channel 61 Hartford begins, becoming charter affiliate of Fox Network when Fox opens in 1986. President Jimmy Carter is special guest and Eddie Albert is the master of ceremonies for the opening night telecast. FCC releases Docket 80-90 ruling, which creates thousands of new FM channels nationally. Connecticut gets 7 new channels that will ultimately become WQQQ 103.3 Sharon, WKZE 98.1 Sharon (sister to WKZE 1020), WZBG 97.3 Litchfield, WPKX 97.9 Enfield, WNLC 98.7 East Lyme, WBMW 106.5 Ledyard and WWRX 107.7 Pawcatuck. 1985 WMMM 1260 goes all comedy for a time.
1986 WTNH-TV channel 8 is sold for $170 million. WTWS (now WHPX) channel 26 begins as first commercial TV station in New London County. In the 1990s this station become WHPX, the Pax Network affiliate for Connecticut. W13BF channel 13 in Hartford begins as Connecticut's first Low Power TV station, originating own programming; station's efforts enable it to win carriage on several cable TV systems in CT, through cable systems are not required to carry LPTV signals.
1987 WBCT channel 43 Bridgeport (now WSAH) is telecasting as nationals first woman-controlled TV stations headed by the late Laurel Vlock of Woodbridge.
1988 WMMM 1260 Westport, WXCT 1220 Hamden, WFNW 1380 Naugatuck and WLVH 1290 Manchester all have all-business formats, but format does not survive. WFNW 1380 goes on to be all Portuguese station during the 1990s and to this day.
1989 WCUM 1450 Bridgeport becomes first all Spanish station in Fairfield County. WMMW 1470 Meriden broadcasts all-motivational format for a time. W28AJ channel 28 West Haven becomes first low power TV station in Southern Connecticut originating own programming. WLVH 93.7 (now WZMX) broadcasts all-weather format, the NOAA public service band all weather station, for about a year while legal details of sale of WLVH are worked out by attorneys.
Reprinted by permission from the Connecticut Broadcaster's Association
Written by Michael Collins © ® 2005
The preceding is from a pamphlet entitled "TIME LINE FOR CONNECTICUT BROADCASTING" released in November, 2005 by the Connecticut Broadcaster's Association to commemorate their 50th anniversary. It is one of the only comprehensive lists of its kind that we are aware of, and serves only as a companion to the WWUH History documents elsewhere within this website.
+