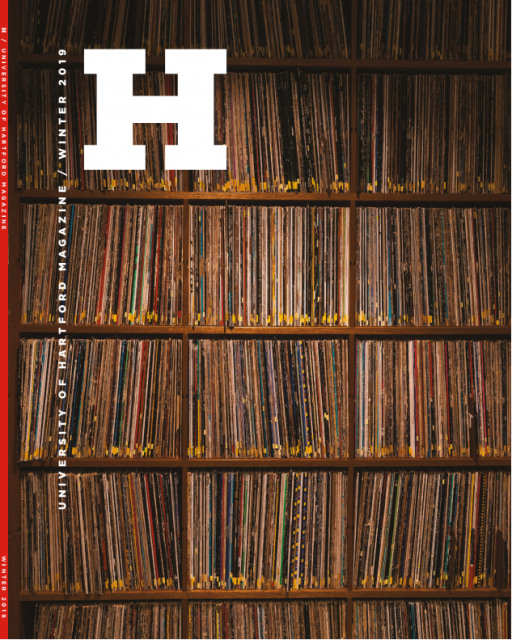 When the University of Hartford was incorporated just over 50 years ago by business and community leaders, they envisioned a center of education and culture for Greater Hartford. Read more...
Persons with disabilities who wish to access the WWUH Public File may contact John Ramsey at: ramsey@hartford.edu
CT Radio History Timeline
Reprinted by permission from the Connecticut Broadcaster's Association
Written by Michael Collins © ® 2005
The following is from a pamphlet entitled "TIME LINE FOR CONNECTICUT BROADCASTING" released in November, 2005 by the Connecticut Broadcaster's Association to commemorate their 50th anniversary. It is one of the only comprehensive lists of its kind that we are aware of, and serves only as a companion to the WWUH History documents elsewhere within this website.
1921 - 1949
1921 Earliest Stations In CT Begin
WCJ New Haven, owned by A.C. Gilbert toy company, the third radio license in the U.S.; also WDAK Hartford, Hartford Courant, and WAAQ Greenwich, New England Motors (none of these survive more than a few years).
1922
WPAJ New Haven begins, founded by Franklin Doolittle, later becoming WDRC, Connecticut's oldest radio station.
1923 WCAC Storrs, CT Agricultural College station begins as CT's first educational station.
1925 WTIC Hartford begins, owned by Travelers Insurance Company.
1926 WTIC becomes 4th affiliate nationally of NBC. WICC Bridgeport begins, oldest station in Fairfield County.
1930 WDRC moves from New Haven to Hartford and becomes CBS affiliate. WICC Bridgeport becomes CBS affiliate
1931 WTIC synchronizes broadcasts on 660 khz with NBC's WEAF New York City certain evenings each week, which continues until 1934.
1934 WATR Waterbury begins as Waterbury's first station, and which today is oldest continuously owned station in the state, never having been sold, owned by the descendants of the founder Harold Thomas.
1935 WNLC New London begins, first station east of the Connecticut River. WCAC Storrs, sharing time with WICC on 600 khz, shuts down, leaving Connecticut with no educational radio station for 20 years until WHUS 90.5 Storrs, - owned by the same school - now the University of CT -- opens on the FM band in 1956. Later WHUS moves to 91.7 and 90.5 becomes available for Connecticut Public Broadcasting.
1939 W1XPW begins broadcasting from West Peak, Meriden, as state's first FM station, becoming WDRC-FM in 1943 and WHCN in 1956. 1940 WXSO Hartford begins as states second and its only other pre-World War II FM station, becoming WTIC-FM in 1940.
1941 Every AM station in Connecticut except WICC 600 changes frequency in March as new international radio agreement with Canada, Cuba, the Bahamas and Mexico takes effect. WTIC 1080 Hartford becomes fully protected Class I-B clear channel station under new treaty, covering much of the northeast, Midwest, upper south as well as eastern Canada with a clear signal during hours of darkness. WTIC is one of only two clear channel AM stations in New England and one of only 59 in the United States with wide area coverage. The other in New England is WBZ 1030 Boston. WSRR 1400 begins as Stamford's first station, later becoming WSTC.
1946-1949 Small cities in Connecticut get own stations, Greenwich, Norwalk, Danbury, Torrington, Bristol, New Britain, Meriden, Middletown and Norwich.
1947 Don Russell sings on Fairfield County's first FM station, WSTC-FM 96.7 Stamford (in 1950s Russell will be announcer for Jackie Gleason Show and anchor Dumont Television Network's McCarthy hearings). WBIB 100.7 New Haven signs on, becoming Connecticut's first FM "stand alone" station with no AM sister; WBIB will shut down in 1954. Weekly Bridgeport Herald announces plans for WITE-FM 97.5 Bridgeport which will provide faxes of updated newspaper pages to special receivers in homes, hotels and other public locations, system is put into operation at Philadelphia Inquirer and Miami Herald but does not actually begin in Bridgeport. WNLC-FM 99.5 New London with 20,000 watts signs on, first FM east of the Connecticut River. WLCR 990 Torrington signs on as Litchfield County's first radio station, operating until 1964. The 990 channel is then assigned to Southington where the Rice family launches WNTY (now WXCT) in 1969.
1948 WNHC-TV channel 6 in New Haven, New Haven's Window on the World, begins as Connecticut's first TV stations and New England's second station, daily newspaper in New Haven and Hartford carry no accounts of it. William Shearer, CBS correspondent who covered the surrender of France to the Nazis live on CBS in 1940, is now living in Torrington assembling his book "Rise and Fall of the Third Reich" and is interviewed several times by Peg Graham on WTOR 1490 Torrington (now WSNG 610). WGCH 95.9 Greenwich begins as first FM stand alone station in Fairfield County, and will broadcast until shutting down in 1952. Rural Radio Network, first full-time FM format for farmers and agricultural interests, begins in WKNB-FM 103.7 New Britain and WLAD-FM 98.3 Danbury. Connecticut has 13 FM stations on the air, including 5 which will survive: WSTC-FM 96.7 Stamford, WNHC-FM 99.1 New Haven, WMMW-FM 95.7 Meriden, WDRC-FM 93.7 Hartford and WTIC-FM 96.5 Hartford. Eight will not survive: WAVZ-FM 95.1, WBIB 100.7 and WELI-FM 107.9 all in New Haven, WNLC-FM 99.5 New London, WKNB-FM 103.7 New Britain and WTHT-FM, 106.1 of the Hartford Times.
1949 Ed Coleman becomes first black disc jockey in Bridgeport on WLIZ 1300, and possible the first in CT, playing "subdued" bop. WAVZ 1260 AM and 95.1 FM New Haven feature "Newspapers of the Air" segments, very early forerunner of the "all news" concept. First UHF television broadcasts in the world are conducted in Stratford, to test the viability of UHF for television broadcasting, station KC2XAK operated by RCA, and simulcasting NBC's channel 4 in New York City; transmitter is on success Hill in northwest Stratford.
+